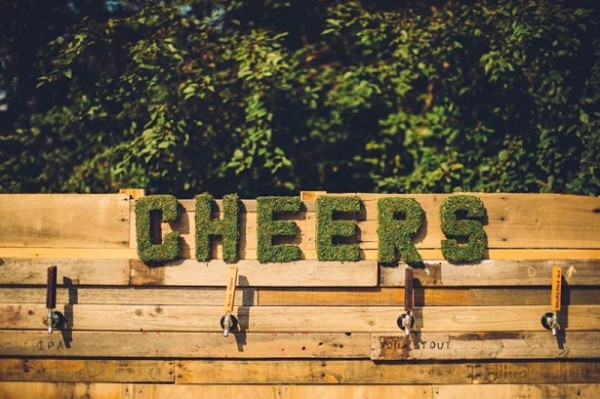 Photo by Ryan Polei | View Real Wedding Feature
How many weddings have you been to in your life? For most of us, the answer will be at least a few, either through family or friends. Now, next question. How many of those weddings did you actively enjoy? It's harsh even to ask, and you don't have to answer. But if we're truthful, sometimes when you go to a wedding you sit and think "I wish that they'd just invited me to the sit-down meal, this is boring!". If we feel like that at a wedding and are not married ourselves, then one thing you are almost guaranteed is the following thought. "When I get married, I will make sure it's more interesting than this". But when you come to plan a wedding, you quickly become aware it's not as easy as it sounds. You have to keep a lot of people happy, and those people can range in age from four to ninety-four.
Make Work For Idle Hands
When you have a lot of people attending a wedding, things do need to be planned tightly. If you have a hundred or more people sitting around and there are delays, then the atmosphere can get tense. Because it is a wedding day, it probably won't get nasty. If there are delays, use that time to get things ironed out for the reception later on. Involve people in sorting out food and drink orders, sorting out transport and so on. You might get a few comments about being cheeky, but better that than people getting annoyed!


Use The Pre-Reception Lull To Keep People Entertained
Between the actual ceremony and the reception, there can be dead time. It is wise to fill it with something fun........ outdoor games like cornhole or a beer tasting cocktail hour. There are so many ideas online, from the likes of www.ourstart.com and Pinterest, so you can"t go far wrong.


Book A Few Rooms In The Hotel
Most receptions are held at a hotel and this is usually where the bride and groom will stay on the wedding night before setting off for the honeymoon. A good idea is to book a few extra rooms along with the honeymoon suite. This will allow people to go and get ready for the reception, watch a bit of TV, and perhaps even get a nap to break up what can be a long day. One word of advice: maybe don't book them on the same floor as the happy couple. They (or you) deserve privacy. In the end, it's only a truly churlish person who will actually complain about a wedding being boring. That doesn't mean they aren't thinking it, of course, and you want to make sure everyone has a good time. Finding the balance between solemnly celebrating your love and keeping people entertained is hard. But getting it right will mean everyone remembers it for the best of reasons going forward.