If you are somebody that want their big day to really be BIG, then what about going for a forty glamour theme? Not only can you make use of vintage styling, but with this theme you can also incorporate a sense of opulence and timeless style. If this sounds like perfect for your wedding, then keep reading to find out just how to sprinkle a little 40's elegance onto your big day.
Dress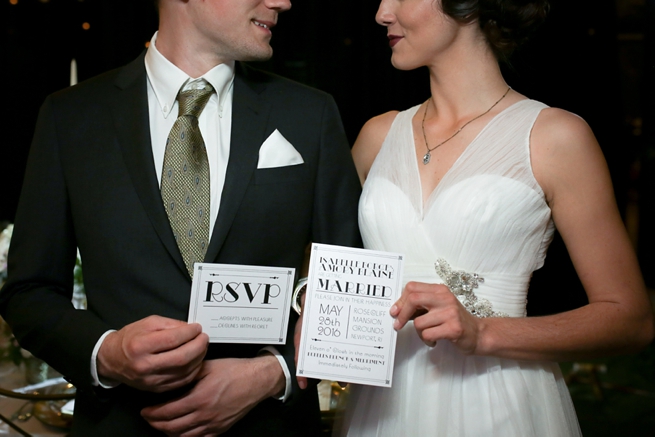 Photo by Savannah Chandler Photography
One of the most important things that you need to get right if you are having
a period themed wedding
is the dress. In fact, it is really the central item that you can build the rest of the event around. Some of the best looks for 1940ís style brides include satin dresses in cream, that are fitted at the waist and bust, and cut on the bias. These tend to be either ankle or floor length with a church train. Or you could go for a structured taffeta number in an A-line shape. These work particularly well with ruching at the bust, and sweetheart, strapless neckline. Lace is also a popular choice for 40ís style. Wear it either in a traditional style with a long train, think
Kate Middleton's dress
. Or in an off white, and sultry wrap style that combines vintage with sexy.
Jewelry
When going with a 1940ís theme one of the major joys is picking your jewelry to wear on your big day. It's really not about less is more at all, so think great big stones and a bit of flash to get that true starlet sort of look. Necklaces should look like diamonds, so always go primarily for clear stones. Although the odd dash of you wedding color in your jewelry choices doesn't hurt either. Remember too that if you are wearing your hair up, then go for jeweled, button earrings that match, for a cohesive look.
Hair and makeup
For a genuine 40s look hair should be curled or waved and worn tight around the crown. Preferably topped off with a veil and
lace or material headpiece for height
. However, if you want to rock this style with a little more sass, then go for shoulder length curls, with a lot of height on top and at the ends,
al la Lauren Bacall
. Add a comb or small fascinator to give it that bridal vibe too.
Groom and groomsmen
Luckily for the groom and his party, doing the 1940s look is pretty easy for the guys. At the most basic level, they can all wear black dinner suits with bow ties. Or if you are looking for something a little more detailed, how about introducing suspenders to keep their pants up, as well as spats over their shoes. The on trend grooms out there may even go for a trilby hat, worn at a jaunty angle for some of the day. But I guess that has a lot to do with whether their other half gives it the green flag or not.
Venue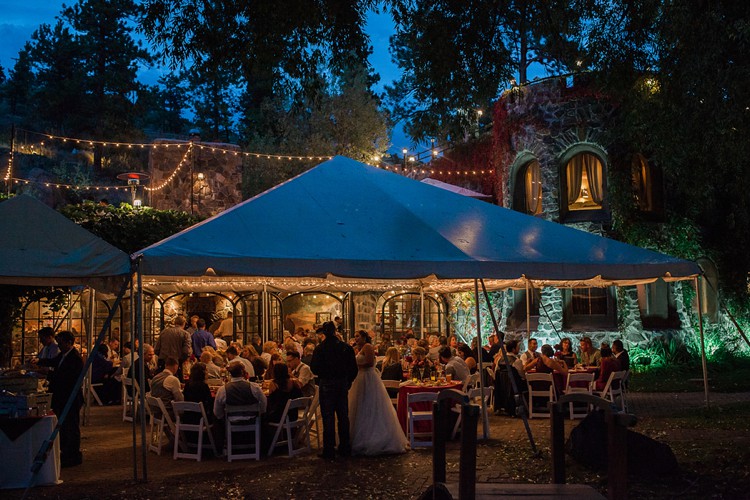 Photo by Krissy Blackband Photography | View Real Wedding Feature
Getting your venue right is something else that is vital for a successful 1940ís themed wedding. It needs to be big enough to hold all of your guests, but it also needs to have that sense of history and glamour that can fit this theme, so well. Look for places with a ballroom feel that you can add your own decorations too. Balconies are a great feature, and if there is a sweeping staircase, like the one at this
wedding venue,
where you can make a grand entrance fit for a movie star. Then you know you are getting it right! You can take some pretty awesome pictures on it too for your wedding album.
Flowers
To maintain your 40ís glamour theme, flowers with a more vintage edge are a good choice. That means roses and lots of them! Red if you want to really bold, or in other colors that fit your wedding choices depending on your taste. You can also include other floral elements too, as using only roses is likely to be very expensive. So consider bulking out your displays with greenery and baby's breath to give them volume, while keeping them in that old school style.
Decorations
Decoration for a 1940ís style wedding can differ depending on the main look you are going for. If you are after sweet romantic vibe, the vintage teacups and saucers, teapots and lace doilies can work very well. Or if you are all about the 40ís movie star glamour, then try strings of old fashion Edison lights. As well as table names with film references such as It's a Wonderful Life and The Maltese Falcon. As these can lend an air of vintage sophistication to the proceedings.