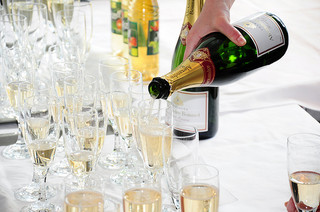 Planning your wedding can become a bit competitive. Of course, you want to have a beautiful day, but there's also the thought that you want to be different and unique. You've been to other people's weddings when it's been fun, but nothing special. Perhaps the
ceremony
was the best part of the day, and the after party was a little lacking in imagination. If you want your wedding to stand out from everyone else's, there are lots of fun ideas to give all your guests an experience to remember. From setting up a photo booth to hiring a food truck, try some of these creative things to make your wedding more memorable.
Fairground
Most adults love getting in touch with their childish side, even if they won't admit it. Otherwise, why would we go to theme parks, laugh at kids' movies and enjoy telling silly jokes? If you want to add some whimsy to your wedding, you could turn the party into a fairground. Of course, you could hire some full-sized
fairground
equipment, but you don't have to go that far. You could have smaller-scale versions of some of the fun foods and games, from cotton candy and popcorn machines to duck shooting. Your whole wedding could be fairground themed.
Photo Booth
Everyone wants to have lots of memories of their wedding, and they go to great lengths to get photos, video, and messages. Hiring a photo booth is a brilliant way to help your guests have some fun and act like teenagers for the day. Everyone can take turns in the booth, taking silly photos and creating some incredible memories of the day. You can use a company like
PinkMenPrints, the best wedding photography and photo booth provider
, according to some. You should be able to find plenty of people to hire a booth from, either as a small mall-type booth or a larger space.
Cupcake Station
Desserts will always be popular with your guests unless you've managed to invite only people without a sweet tooth. Anything that makes your wedding party more interactive will be great fun for everyone, so set up a dessert buffet. Everyone could make their own
cupcakes
from the decorations that you set out. They can get messy and creative, and there's no need for you to serve them a dessert because they can get it themselves. Put out different frostings and toppings and make it colorful, so everyone can have what they like.
Food Truck
Another great way to get fun with food is to hire a local
food truck
to come and do the catering. You could do this instead of a formal sit-down meal or as a later evening alternative to a buffet. Hire a truck to serve savories, such as tacos, or have it as a sweet treat while people are dancing. They could go out to the truck to get a donut or pancake at any point during the evening. There are hundreds of ways to make your wedding more entertaining and unique. Think outside of the box to create an event that says something about you as a couple.
Image Credit: L.C. Nottaasen