If you have just recently become engaged, you are probably already halfway through planning your wedding - in your head, at least! Many of us, especially us girls, have a very clear idea of what we want out weddings to be like from a young age. But as we get older and actually attend more weddings, this idea will start to change slightly. You might think that all weddings vary differently, but once you've been to three or four, you might start to draw similarities between all of them. There's nothing worse than being bored at a wedding, or to feel like you are just going through the motions - plus, it's meant to be the most special day of your life, so it should stand out in some way! If you are up for adding a touch of quirkiness to your wedding, here are some ways you can do so.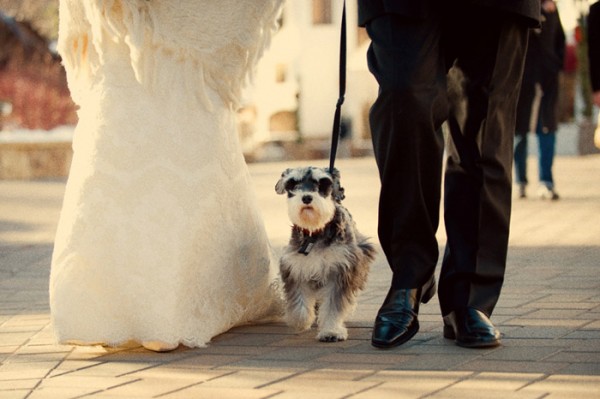 photo by LISTmember: Jamee Photography
Have your dog as your ring bearer
Yes, you heard us correctly! If you have a furry friend in your life and no one else you can think of to bring your rings to you, get your pet involved in the big day! There have been a few people who have done this and had their wedding footage go viral on social media as a result, but it's still a pretty original idea - plus it is guaranteed to get a great reaction from your guests. Spend some time before the wedding teaching your dog to hold a basket in their mouths that you can put the ring inside, and consider putting a garland around their collar to perfect their wedding 'look'. If your dog is your best friend, this really is a fun and memorable way to get them involved in your big day.
Ditch the traditional wedding cake
Having a cake at your wedding reception is a tradition that dates back thousands of years, first appearing in the medieval ages. Originally they were made out of wheat and were regarded as a symbol of fertility at the ceremony. Nowadays, however, we are all familiar with the traditional wedding cake most people have on their big day. But what do you do if you don't have a sweet tooth, or if you just fancy something a bit different? Ditching the status quo and instead going for some
cheese cakes
can be a great way to surprise your guests. Yes, when we say cheese cakes we don't mean the usual sweet type - it's actually cakes made out of cheese!
Build your bouquet as you walk down the aisle
Most brides turn up to the church or venue with a
bouquet of flowers
already in hand. But a cute way to get your guests more involved in your big day is to give the people at the end of each row of seats a flower to hold - then you can collect them as you go down the aisle, building you bouquet as you go. It's something both you and them will always remember.