Weddings are beautiful at any time of year, but thereís something especially magical about the winter. Itís frosty and cold, and if youíre lucky youíll get a gorgeous layer of snow for your photos! And on the plus side, wedding vendors tend to be cheaper and less booked up on the Ďoff seasoní meaning you pay less and potentially get more choice. If youíre planning on a winter ceremony, here are just a few of the ways you can embrace the season and make it even more special.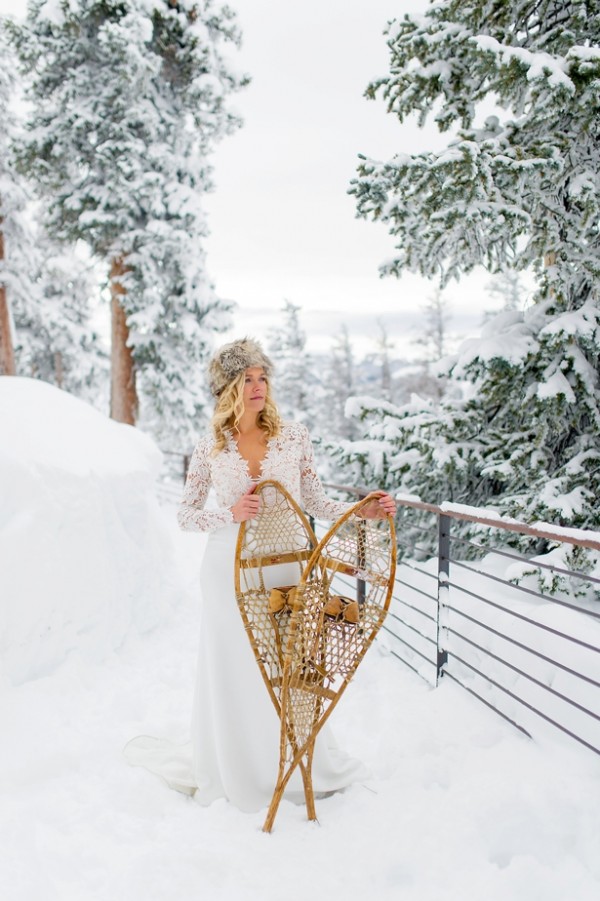 photo by chowen photography | view full styled shoot
The Color Scheme
Your wedding colors are so important. They will depict everything from the flowers, decorations and bridesmaids dresses that you buy, and will set the overall tone for how everything looks and comes together.
Cool blues, turquoises, and grays
are all fantastic choices for winter weddings. Or if youíre getting married close to Christmas, you could embrace festive shades such as red with silver or gold. The color scheme will really help to tie in the season with the wedding, so spend some time getting it right. Itís true that you could choose any color you like regardless of the season, but pastel pink flowers and bridesmaid dresses against a snowy backdrop, for example, might not look quite right.
The Photos
One huge benefit of a winter wedding is the chance of snow and ice. These will look truly magical in photos, so if itís a frosty or snowy day take full advantage. It might be tempting to stay inside where itís warm, but snowy wedding pictures are far too incredible to miss out on. Ask your photographer for close up shots of yours and your grooms rings too. Whether you have a luxurious
Mervis Diamond
or a more pocket-friendly cubic zirconia, a backdrop of stunning snow will make it look extra sparkly and beautiful.
The Flowers
Since a lot of flowers will be out of season in winter, it might be more difficult to locate very specific types and colors. However, gorgeous red and white roses, for example, will be easy to get hold of all year round. If youíre going with a Christmassy theme then pinecones, holly, and berries could all make an appearance. You could even have pearl or diamante touches
added to your bouquet
to look just like snow or ice.
Fireworks
While fireworks can be used in weddings all year round, theyíre particularly lovely for winter weddings. Because it gets dark earlier, you can have the display a little sooner in the evening before everyone heads inside to get toasty and warm. Find out if your venue allows fireworks, if they do itís well worth budgeting for something like this. It would look spectacular on a chilly winterís evening. You could even put out baskets of blankets for guests to grab and cozy up with as they watch.
Will you be getting
married in the winter
, or is this a time of year youíre considering? If so, will you be adding any extras to make it particularly seasonal?