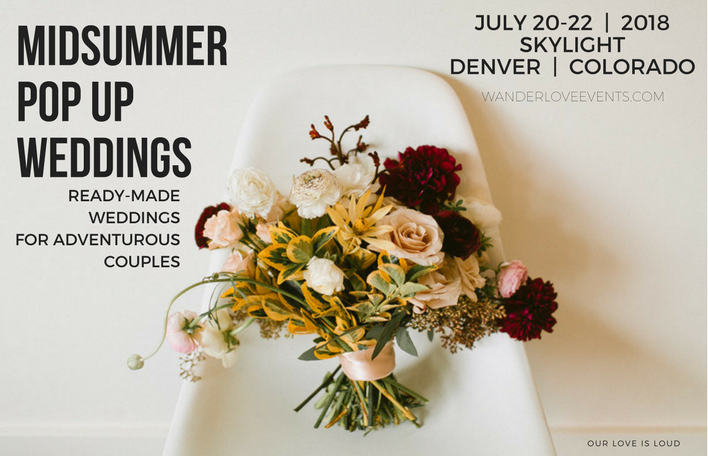 Feeling spontaneous? Get married in the Mile High City this summer! It's not too late.
My friends over at Wander Love Events are hosting a series of ready-made pop up weddings at Skylight Denver in partnership with some of Colorado's hottest local vendors. They believe that everyone deserves a beautiful, intimate, stylish, and stress-free wedding no matter the budget or timeline. They are looking for adventurous, spontaneous, and/or eloping couples itching to get married in Colorado this July.
What you get: a fully executed and beautifully styled wedding day for you and up to 20 of your nearest and dearest by a team of established local wedding vendors. They have put together the coolest wedding for you at one flat rate of $5,995, and what you get is beyond belief for the price tag. A killer venue, legal ceremony, live music, decor + lounge, coordinator, cocktails, florals, photography, cake, guest favors, invitations, and more. Seriously, this wedding is going to be AH-MAZING! Check out their inspiration board!
Contributors to your wedding include Skylight, design and coordination by Hey! Party Collective, floral design from We+You Studios, photos by Nine Photography, rentals from Yonder House, Cocktail Caravan, a violinist from Oncue Entertainment, print design from Yeti + the Beast, and a legal ceremony customized for you by Married by Maree.
Weddings will take place over the course of three days, July 20-22, and time slots are first come, first serve, so sign up now at wanderloveevents.com and they'll send you all the details! Spaces are super limited.