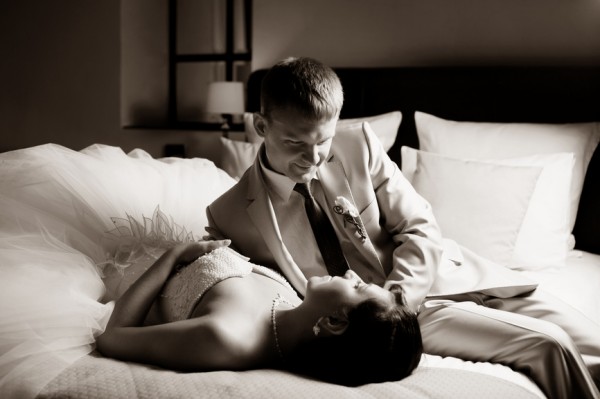 I am all for people making their wedding day their own. If it makes you happy, I say do it. To hell with tradition. You should be able to twist, alter, or even eliminate all of the once-customary practices in order to create the wedding you always dreamed of. On the other hand, however, I'm still completely confused by the people willing to take an unorthodox approach to their ceremony and reception, while disregarding their own desires entirely for the most intimate part of the entire day—the wedding night. Some people will spend months creating the unique and perfect day from visions they've had for years, then when it comes to the wedding night, they're stuck in conventional mode. If the cause of your anticipation for vanilla, unenthusiastic sex on your wedding night is due to no one telling you that you're allowed to do anything different, take this to heart: You have every right to make your wedding night as special as your day. And just like your ceremony and reception, it's going to take a little planning. First, make the night even hotter simply by upping the anticipation. One of the best ways to stay on his mind (and maybe even prevent cold feet) is to give him the sexy gift of a boudoir photo shoot. As sexologist Dr. Kat explained in
a blog for Adam and Eve
, not only will the pictures serve as a personalized gift for him, they can also boost your own confidence and self-esteem. Take pride in all that sweating for the wedding you did and keep that memento of your wedding day bod to look back on when you're old and wrinkly! If you're going by tradition, you probably won't be sleeping in the same place the night before the ceremony, or even see one another until you walk down the aisle. So before you say goodbye to him the night before, give him the photos in a sealed box or envelope, and make sure to say they're for his eyes only! When it comes to the night of, take into account the sights, sounds, and even the smells of the room. It's likely the hotel staff or friends in your wedding party will have attempted to set the mood for you by showering the bed with rose petals (or even prophylactics if the task fell on the groomsmen), but you're still in charge of your own presentation. I always recommend bridal lingerie, if for no other reason than it may be the only opportunity to you have to wear it. Sure, your new husband probably cares more about what's "inside." However, if you show up wearing the same lingerie from your boudoir photos that have teased him for the last 24+ hours, you'll seem like a fantasy come true. For the cherry on top, dab yourself with a perfume that you know he enjoys in areas that you want him to focus on, like the nape of you neck or chest. Then set the mood with some music.
Spotify
offers playlists described as "The Best Tracks to Play During Sex," but if you find making love to Marvin Gaye as hilarious as I do, I recommend taking the time to customizing your own playlist prior to the evening, instead of taking a chance on "shuffle." Finally, just as reassurance for those of you who understand the pure exhaustion that goes into attending a wedding—let alone being the center of attention at one—I'll be the first to admit that you're in no way required to have sex on the wedding night. A few of my friends have admitted to being too tired or drained to get excited about having sex after the ceremony, and
The Knot
posted a related article citing several couples with a similar experience. Their reasons for holding off on consummating their marriage ranged from overindulgence (booze or cake) to flooded honeymoon suites. Instead of forcing themselves to get it on because of a tradition (which isn't really a great reason to have sex by the way) they opted to make the first night of their honeymoon their "special" night. They were able to heighten their anticipation of the evening and really put forth the time and energy to make it a special moment. Instead of their first time sleeping together as a married couple being out of obligation, they were actually able to lose themselves in the moment and truly enjoy the experience. You may not be headed to the honeymoon suite a virgin, but the first time you sleep with your partner as a married couple should still be a cherished event in your relationship. I'm not saying toys or crazy yoga-inspired positions are necessary, but you have the entire day to make your own and celebrate becoming a married couple. Whether it's the same night or the next day, acting on it should be just as special.