Your wedding day will be the happiest day of your life, and it is also the day where to finally get to look like the princess you are inside. It is the one day in your life when you cannot be too overdressed or elegant, and you can really go full glam for the big day.
One of the biggest decisions you will face in the run up to your wedding day is how you will style your hair. Depending on the type of dress you choose, your hair may look better up and away from the face, or down and cascading over the shoulders. If you are currently deciding what hairstyle you want for your big day, here are some easy ideas to try out at home this weekend.
Braided Bun
The first style is one of the all time classics for wedding days, the braided bun. To create the perfect undo you will want to make sure you add some extra flourishes to your hair, and a braid at the crown of your hair is the perfect way to do it. To create the perfect braided bun, you will want to start off by curling your hair. This will add volume as well as shape to your bun later on. Once you have curled the hair, section off the front pieces to frame your face. Next up, take your hair and section it off until you reach the back of your ear: this will be the piece which you braid. Starting from one ear, braid your hair across your head. Adding pieces as you go until you reach the other side, braid to the end and secure. Now you want to place the rest of your hair into a bun, place the braid underneath and voila!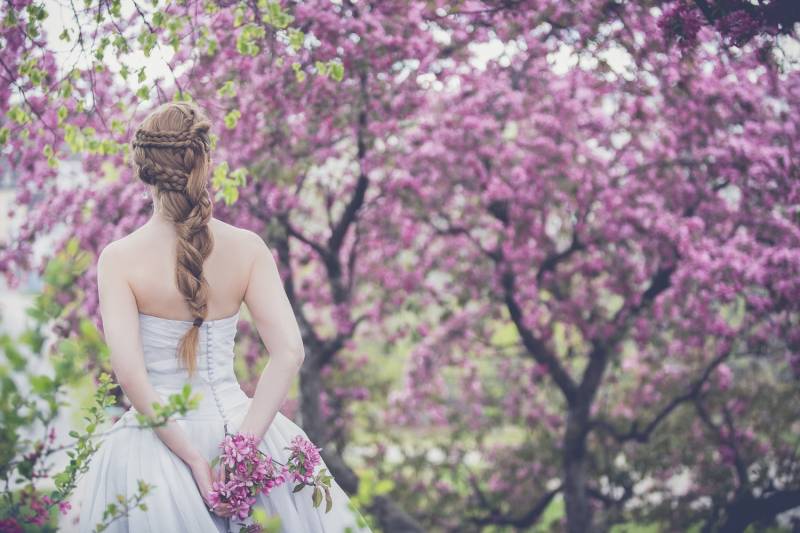 Mermaid Braid
If you want to bring a touch of fairytale to your wedding, a thick braid is the perfect way to do this. To create the perfect braid for your wedding, you will again want to start off with curly hair for added volume. Taking the front pieces and pinning them up for later, you can begin creating the perfect fishtail mermaid braid for the big day. Start with two sections of hair. Take a piece from section 1 and cross it over into section 2. Take a piece from section 2 and bring it into section 1. Continue all the way down your head, adding hair as you go. Tie the hair off with a clear rubber band. Allow the front pieces to frame your face and add a few flowers into the braid for extra effect.
Simple Updo
If you want to keep things classy and elegant, then this simple updo is definitely the way to go. You can either tie up all of the hair or leave some sections loose for this style. All you will need to do is brush out your hair, comb it back and secure it into a low ponytail. Once you've done this you can begin to wrap your hair around to form a bun. Secure the bun, pull out some pieces for effect and finish with a tiara. You can even use this bun to hold your veil.
Crown Braid
For a spring or summer wedding, this crown braid is the perfect way to style your hair and keep you looking feminine and beautiful. To start off with, you need to section off all of your hair up until your ear. Bring this to the front, and tie the rest back. Starting at one of your ears, take three sections of hair and begin to braid upwards. Add pieces as you go and braid until there is not hair left. Secure with a tie. Let the rest of your hair down and curl it into soft waves using a large curling wand. Take the braid and wrap it underneath your hair, decrying with a bobby pin. You can accessorise this look with a daisy chain headband to make for a carefree, stunning style.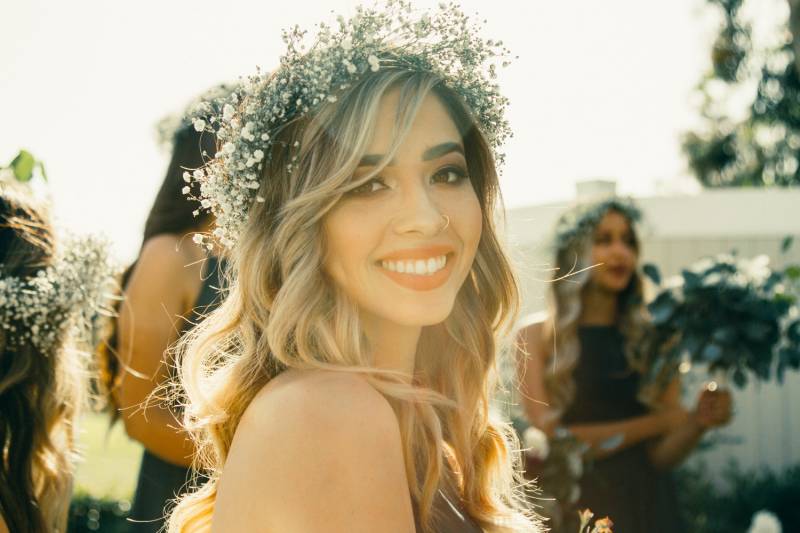 Beachy Waves
Planning on a wedding by the sea? Then there is no hairstyle more fitting than a head of beach waves! The great thing about this style is that you don't need to use any heat, and you can do this style the night before your wedding. Simply wash your hair, let it dry 90% and then braid your hair in any way you like. For a more dramatic wavy look, the best type of braid to do is two fishtail braids. However for a more soft wavy look, one large French braid will do the trick. Sleep with your hair like this, and when you wake up in the morning let your hair down, spray with seasalt and you are good to go. For a touch of beachside flare, you can even add a starfish to your hair.
The Half Updo
If you want a style which will show off your face as well as your hair, then tying half of the hair up and leaving the rest down is the ideal solution. There are a few ways to get the best half Updo, and the first is to simply clip half of the hair up. You will need to style your hair before you clip it, so decide whether to straighten or curl your locks. Once styled simply take the front pieces of your hair and clip them at the back of your head.
The second option is to braid the front pieces. Once your hair is styled, braid the front pieces of your hair and then clip them as you did before. With this style you will want to make sure that you don't braid all the way to the bottom of your hair. Braid the hair to the back of the head, secure with a pin and leave the rest natural.
Voluminous Curls

Curls are the ultimate way to feel like a princess on your wedding day. Find the best hot rollers for your hair type and use these to curl your hair effortlessly on the morning of your wedding. You can do your makeup in the meantime and then simply let the hair down, give it a good shake and you're good to go.