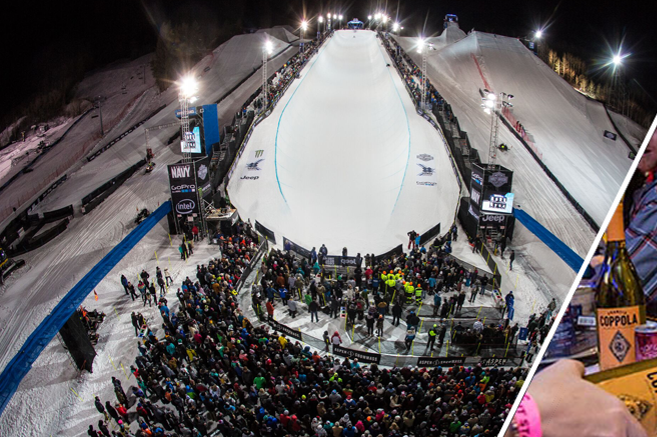 Guest post by Aspen local, Blake Appleby of Douglas Elliman:
Next weekend, ESPNís XGames returns to Aspen for itís 15
th
year of adrenalin-fueled winter sports extravaganza. Not just a party for the college crowd, this four-day event is a sensory overload of sights, smells, music, people watching and radical athletic prowess.
Every year the event somehow re-invents itself to stay relevant and hip, which in todayís culture, is a major achievement. Organizers have managed to keep the event free to the general public while managing crowds and transportation to make the experience one worth repeating year after year. Add a continued evolution of sport disciplines and you find a fascinating mix of sport cultures coming together to celebrate their best performances on a global stage (thanks to nightly television coverage).
Understanding the demographic appeal of the event targets young people, why would ďolder more matureĒ folks attend. As someone in that group, I can tell you. Most of us have been to our favorite sporting events in person. Whether football, basketball or Nascar racing, the experience in person is much more tangible and exciting than on television. This holds true for the XGames experience as there is something about watching a 500lb snowmobile fly overhead or a skier 25 feet above the halfpipe that just does not translate on television. Add the vibe of 20,000 people milling around the venue and you have a spectacle worth attending. At least once.
With that, if you are going to do it, do it in style. The
4-Day Platinum Tower Pass
gives you entry into the VIP tower at the base of the SuperPipe and a birdís eye view of the entire venue and all the events. You have gourmet food, complimentary beer and wine, and the best views at X Games Aspen. Platinum Pass holders also receive a limited-edition merchandise items, preferred access to all musical performances, athlete meet & greets plus a private tour, a single day all-mountain lift pass, and photo on the SuperPipe with the course builder. The Platinum Pass is priced at $1,799, which at $450 a day is comparable to a day of skiing, but a heck of a lot more fun (and less likely to end up in the emergency clinic).
Hereís the catch, the Platinum Pass sells out every year so start planning for 2018. This is one VIP experience worth itís weight in Red Bull.
Guest post by Aspen local, Blake Appleby of Douglas Elliman: