Halloween is the best time of year, as we get to become someone else. Our alter egos that have been simmering below the surface are let out to be loud and proud. It's a time to wear that
bold lipstick
and sparkly eyeshadow you've been hiding in your drawer. Quite frankly, it's a day to let our freak flags fly. But it doesn't just have to be about funny, outrageous, or scary
costumes
. Halloween can be about beauty, particularly because there is so much you can do with makeup and more. If you're looking for beauty ideas for this year's Halloween, look no further than this article. We can help you marry your love of beauty with your love of this holiday's frighteningly fun times.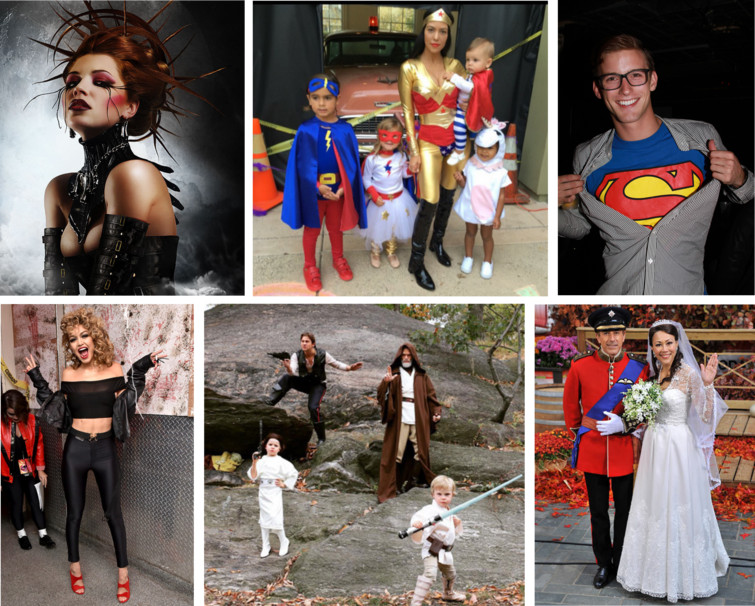 Don Your Día De Los Muertos Garb
Día De Los Muertos, or Day of the Dead, is a holiday celebrated in Mexico and throughout the U.S. by Mexican-Americans. You don't have to be Mexican, however, to enjoy the breathtakingly beautiful makeup these costumes entail. The Sugar Skull is a type of design on the face and, while many have similar traits (hollowed out eyes and spider webs), you can have fun creating your own. Whether you do it on half your face or on your full face, those around you will be amazed by this ghoulishly great design. If you're not a natural when it comes to makeup, you'll love the many YouTube tutorials that are there to guide you. Places like
Party City
do sell the traditional costumes that many women wear, although you can also make your own. Let's hear it for all you DIY'ers! Either way, this is a beautiful look that will turn heads at any Halloween party, and rival any of the
fun Halloween decorations
.
Choose a Costume That's Comfortable
We know, we know, when you hear comfort, you think slouchy and frumpy. You definitely don't think beauty, do you? Bear with us on this one, however, as we think that people tend to be the most beautiful when they are at their most comfortable. So choose a costume that you're going to feel amazing in from the beginning of the night to the very end. Whether it's an angel costume (simply pop on some wings and a halo) or a devil that is most definitely not in disguise, you'll love it if it makes you feel like you. Check out the Tipsy Elves adult Halloween costumes
here
, as these are the ultimate in comfort. And, because they're jumpsuits, they're perfect for taking the kiddos trick-or-treating on a cool evening.
Turn Up The Heat With a Sexy Costume
If you wore a comfy costume last year and you're ready to turn it up a notch, it might be time to let your sultry side shine. There are certainly plenty of choices when it comes to sexy costumes. From the French Maid and the Naughty Nurse to the Hottie SWAT member and the Wicked Kitty, the possibilities are seemingly endless. And, while there are plenty of places that sell these online, many of them are also easy to make. Take for instance a sexy nerd. Simply get a short plaid skirt, a white blouse that you can tie at the waist, the requisite nerd glasses, and some sexy knee-high socks and you're good to go. Throw in some pigtails for added fun and flirtatiousness. The skeleton is another simple yet sexy option, as all you'd need to do would be to buy a tight black jumpsuit and you can paste on the bones. Of course, the skeleton makeup adds another level of beauty and mystery.
Make the Most of Your Makeup
Alicia Keys might be going makeup-free these days but most of us gals adore our palettes. And what better time of year to really have some fun with our cosmetics than Halloween? What's great is makeup is also an easy way to create a costume, as an intricate design allows this to be your focal point. Enter "Halloween makeup" on Pinterest and you'll find plenty of pinspiration. Halloween doesn't have to be about witches with warts and bloody zombies. Follow these beauty ideas for this year's Halloween and watch those around you swoon. Photo Credit:
Gigi Hadid Rocks It as Sandy From Grease for Halloween, Shows Off Fit...
/
Lunar Poetry
/
Kourtney Kardashian's Superhero Squad
/
Neil Patrick Harris and His Kids Win Halloween Again With Amazing Star...
/
Celebrity Halloween Costumes 2011
/
A Very V Halloween - Of The Minute