What do you get when you combine the style savvy of LISTmembers
Mile High Style
and
Calluna Events
? A complete office renovation worth writing home about. Having experienced this office first hand I can honestly say that the space is open, inviting and functional. With monochromatic grey on grey with purple accents and highlights of yellow, this space went from generic to gorgeous in one fell swoop. The talented Liz Finkelstein took Calluna Events owner Heather Dwights' ideas and brought them to life. Together they renovated what was once a bland office space and turned it into a design inspiration. The actual
use
of the space is something I truly appreciated. With 2 desks on the far wall, a welcoming seating area in the middle and a to-die-for bar cart nook; the office comes together beautifully, flows well, and allows practicality. I could go on for days, but instead here is a Q + A with Liz & Heather!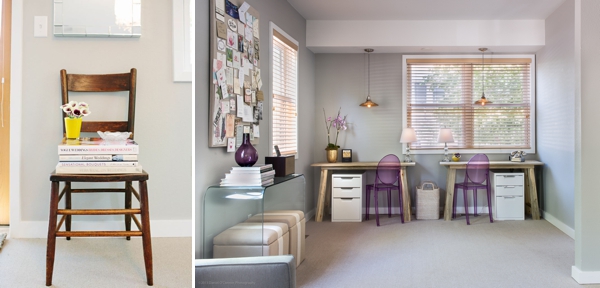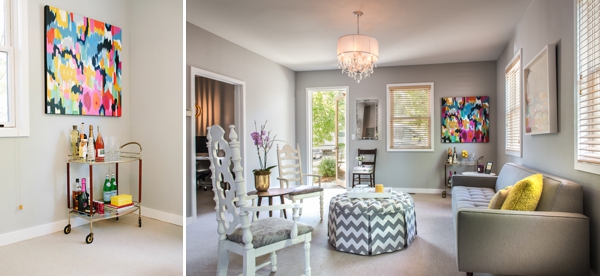 What was the main source of inspiration for the design?
HEATHER:
The main source of inspiration was our newly redesigned logo and website. Having just gone through the elaborate process of redesign, we knew exactly what our brand represented and what we wanted to convey to a potential client the minute they click on our website or walk through our door. We wanted the office space to represent our luxury brand while maintaining its approachability. The end result is a space that feels stylish, authentic, and chic, and is inviting for ladies and men alike.
LIZ:
There is also a strong modern look to their brand, so the space had to communicate contemporary but combined with a timelessness. For me, it's the ideal combination.
How did you take that initial vision and turn it into the office we see today?
HEATHER:
Hiring Liz from Mile High Style was an easy, no brainer first step. She was excited and eager for the challenge and we were relieved and thrilled to have her on board. Never having worked with a stylist before I didn't know what to expect but Liz far exceeded all expectations. The creative collaboration began where many of our wedding collaborations begin – on Pinterest. After reviewing our eclectic "Office Ideas" board, Liz helped bring our inspiration to life. My initial vision was one of clean lines, monochromatic pieces, and touches of reclaimed wood. Liz sourced local, Pine Beetle kill wood for our desks and the look is just lovely.
LIZ:
The very first step was to determine what work the skeleton needed: structural, electrical and cosmetic. Basically, the existing space was, to put it mildly, not attractive and needed 'new' everything. Before I could buy a stick of furniture, the fundamentals all needed upgrading. We removed a ¾ high wall that cut the space in half, replaced the existing wall to wall carpet with a new one, removed unsightly light boxes over each window, painted walls, trim, & window frames, and engineered electrical in order to hang a chandelier (in the main room) and a better vanity fixture (in the bathroom). The only details we didn't change were the wood doors and the blinds.
Tell us about the color story you went with?
HEATHER:
Our colors have always been shades of purple and grey and our new site incorporated crisp white. Our look is very clean but warm so I knew I wanted it to feel modern but have a lot of texture. And I also knew wood would play an important element and helps bring a sense of masculinity to the space. The yellow accent color came later and adds a warm, happy pop.
LIZ:
With Heather's desire for a predominantly monochrome, clean look, we decided on (the always modern-looking and gender neutral) grey as the primary tone, purple as it's accent, and I suggested the best complimentary color to them both: yellow.
What were the largest area of renovation and change from the "before" office to what we see now?
LIZ:
The upgrades to the skeleton, before placing a stick of furniture into the room, definitely communicated the biggest change. We took, for all intents and purposes, an unattractive room and made it beautiful.
HEATHER:
The "build-out" so to speak was the largest project. Once we had the bones of the place in better condition we could focus on filling it with lovely, one-of-a kind pieces that go together to create a seamless palate.
How did you combine style with functionality?
LIZ:
Balancing the style and functionality of the space was definitely my biggest challenge. Since this was not a traditional office, I had to be very creative with storage. The bathroom has a shower that now functions basically as a closet, with a lovely purple velvet curtain hiding the contents inside. Since Heather and Jolene's custom desks don't have drawers, the top drawer of a stylish white file cabinet holds their pens, paper clips, all their desk accoutrement. Finally, the printer found a home on a fabulous antique table that we had painted white. In the near future, a small wall next to Jolene's desk will become a storage wall with white shelves holding uniform file folders and boxes from the container store in a white linen-weave. No matter what the function, it must all look good. Even the trash bins (handwoven rattan) are attractive.
HEATHER:
We wanted the office to be stylish yet functional and this was a challenge from the beginning. I think if Liz had it her way we wouldn't have filing cabinets or any storage that wasn't necessary but she was wonderful in working with us to come up with design ideas that fit our needs to be able to function as a working office, but to eliminate any unnecessary clutter.
What local sources did you utilize for furniture, art, ect?
LIZ:
Locally, we commissioned the Beetle Kill Pine desks from a talented woodworker. Heather & I visited his 'studio' in Lyons and had a hand in picking the individual boards he used, which was, I thought, a wonderfully unique part of the process. Additionally, the two paintings are from Boulder artist Sarah Kinn. Whenever possible I like to buy local, but my first priority is to find the best, wherever that may be.
HEATHER:
In addition, we also have two custom refinished chairs and side table from Charished Vintage Rentals, a Denver based wedding & event rental company. Their chairs are a lovely addition to the space and we worked with the owner, Gretchen, on picking fabrics and paint that would go with the aesthetic of the office.
LIZ: I
absolutely adore the chairs and think they add a lovely sense of whimsy into the space. They also provided an opportunity to incorporate another pattern into the 'meeting' area. Pattern combining is one of my hallmarks; I rarely see it done correctly, so to have the chance to showcase it here was a bonus.
What are your favorites details in the space?
LIZ:
I have an obsession with bar carts and early on knew that the space would have one. A bar cart styled well is really a showcase for beautiful objects: bottles, vintage glassware, lacquer boxes, books… The mid-century bar cart with Sarah Kinn's beautiful painting above makes that corner and, I think, the entire office. Additionally, I believe that a space isn't special without personal details. I wanted to make a wedding veil into an art piece, and Heather had the wonderful idea of framing hers. Placed above the sofa in the most important wall space of the room, I think it adds tremendous personal style.
HEATHER:
I agree wholeheartedly with everything Liz said. The bar cart and the paintings are so special – one of a kind pieces that make our studio ours. And my veil hanging on our wall is a special reminder to me every day of my wedding and why we are in the business we are in! I do also love the 1847 botanical print of the Calluna plant I found on EBay that now is framed and is in our bathroom. I also love that we painted the bathroom the Farrow & Ball color – Calluna. Yes, really!
LIZ:
Oh yes, the Calluna paint color! This was one of those meant-to-be moments. We needed a paint color for the bathroom and I was hoping to find something from Farrow & Ball, which is basically the Rolls Royce of paint. Looking through their online selections in the purple family, I saw the very shade we were looking for. A light lavender named, you guessed it, Calluna.
{Image Credit to
Daniel O'Connor Photography
&
Tess Pace Photography
}