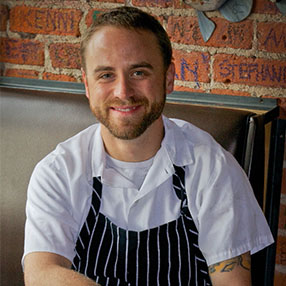 As the executive chef at
Jax Fish House & Oyster Bar
in Fort Collins, it's only natural that Chef Myers would think to include oysters in his Thanksgiving dressing. Jax has its own proprietary Emersum oysters grown in the Chesapeake Bay area by Rappahannock River Oysters, a company known for its sustainability practices.
Oysters can be pricey. (You can find them fresh at Whole Foods for $1 an oyster.) If you canít afford raw, Chef Myers suggests adding a tin of smoked oysters instead.
Makes 12 servings
For the cornbread (Makes two 9-by-13-inch pans):
3 cups all-purpose flour
2 cups corn meal
1 cup sugar
3 tablespoons baking powder
1 tablespoon baking soda
1 1/2 teaspoons salt
3 ears fresh corn, kernels removed using a box grater (see note)
1/2 pound butter, melted
2 cups buttermilk
1 1/2 cups milk
9 eggs
For the dressing:
3 slices smoked bacon, small dice
4 tablespoons unsalted butter
1 rib celery, small dice
1/2 small yellow onion, diced
1 carrot, peeled and diced
1 parsnip, peeled and diced
1/2 bulb fennel, diced
2 cloves garlic, minced
1 shallot, minced
2 tablespoons paprika
1/2 teaspoon cayenne
1 tablespoon fresh thyme
1/2 teaspoon oregano
1 large baguette, cut into 1?2-inch cubes
1 (9-by-13-inch) pan cornbread, cut into 1?2-inch cubes
3 dozen east coast oysters (such as Wellfleet), shucked, chopped or cut in half,
reserving 1 cup of briny liquor
4 large eggs
1 teaspoon Tabasco (or preferred hot sauce)
1 teaspoon salt
1 teaspoon black pepper
1 teaspoon fresh lemon juice
2 scallions, thinly sliced
1 tablespoon minced parsley
To make the cornbread:
Preheat oven to 350 degrees. Spray two 9-by-13-inch pans with vegetable cooking oil. In a large mixing bowl, mix together flour, corn meal, sugar, baking powder, baking soda and salt. In a medium mixing bowl, whisk together corn, melted butter, buttermilk, milk and eggs. Add the wet ingredients to the dry and blend thoroughly. Pour batter into pans and bake for 25 to 30 minutes, or until a toothpick inserted into the center comes out clean. Remove pans from oven and allow to cool. (Make-ahead tip: Cornbread can be made the day before; use one pan to make dressing and the other to serve separately, as a side.)
To make the dressing
: Preheat oven to 350 degrees. Butter a 9-by-13-inch casserole dish. In a medium-sized skillet, cook bacon over medium-low heat until crispy; remove bacon but reserve the fat. Add butter. Once the butter has melted add celery, onion, carrot, parsnip, fennel, garlic and shallot. Cook the vegetables over a medium-high heat until almost tender; add paprika, cayenne, thyme and oregano. Continue cooking for 10 minutes, until vegetables are very soft and spices are incorporated. (Make-ahead tip: Vegetable mixture can be precooked and kept in a container in the refrigerator then rewarmed and combined with bread.) Place cubed breads in a very large mixing bowl. Add vegetable mixture, reserved bacon and chopped oysters to the bowl and use clean hands or a spoon to mix thoroughly. In a separate mixing bowl, whisk together eggs, reserved oyster liquor, hot sauce, salt, pepper, lemon juice, scallions and parsley. Pour liquid mixture into bread and oysters. Mix ingredients thoroughly and spoon in to prepare baking dish. Bake casserole for about 45 minutes, or until heated through and crisp and golden on top. Note: If you canít source fresh corn for the cornbread, thaw and drain frozen corn then pat with paper towels to remove excess moisture.
Per serving: 453 calories (37 percent from fat), 19 grams total fat (9 grams saturated), 198 milligrams cholesterol, 57 grams carbohydrates, 15 grams protein, 1,100 milligrams sodium, 3 grams dietary fiber.