You may remember Rachael from her gorgeous bohemian styled maternity shoot. Or from the heartfelt snapshots she captures as the professional photographer behind LISTmember Every Day Life. It would come as no surprise, then, that I am thrilled to feature Rachael's daughter Delilah's nursery. Everything Rachael does is touched with her personal style: modern meets homespun, and then infused with a meaningful and authentic purpose. Baby D's nursery is no exception, and features Rachael's passions for philanthropy, travel, and of course, photography.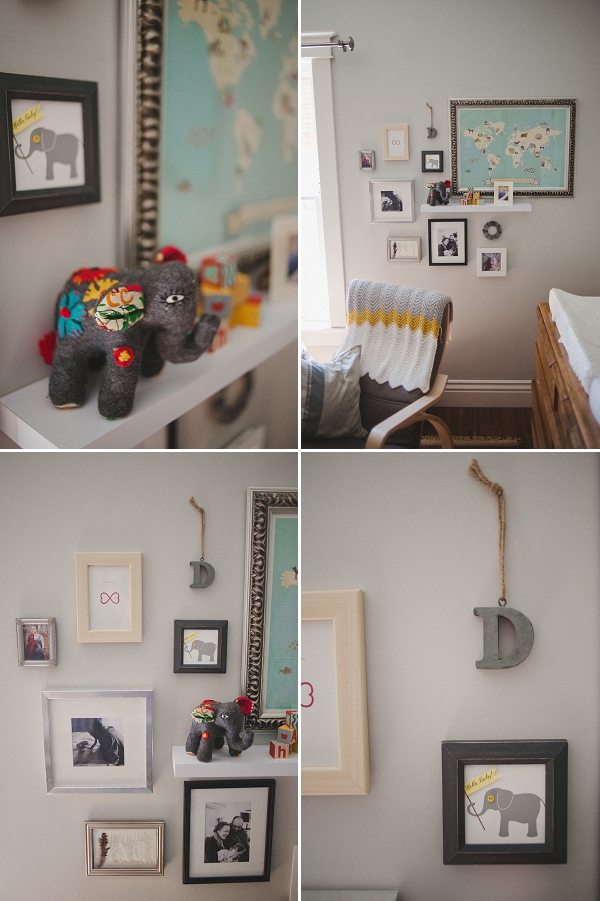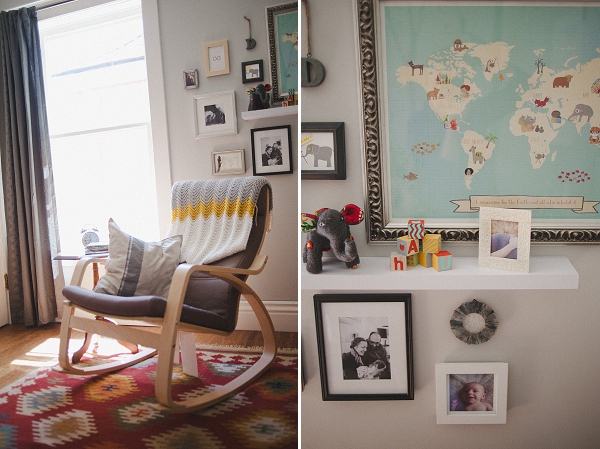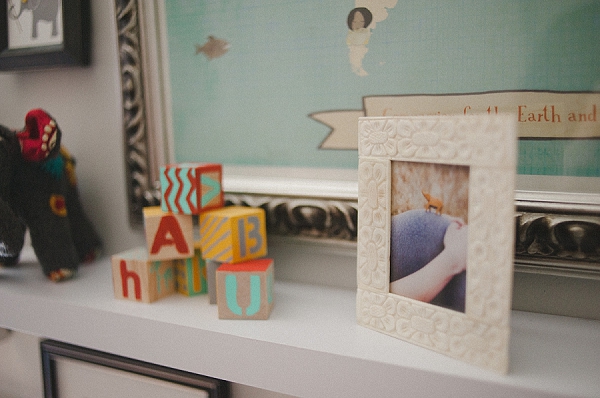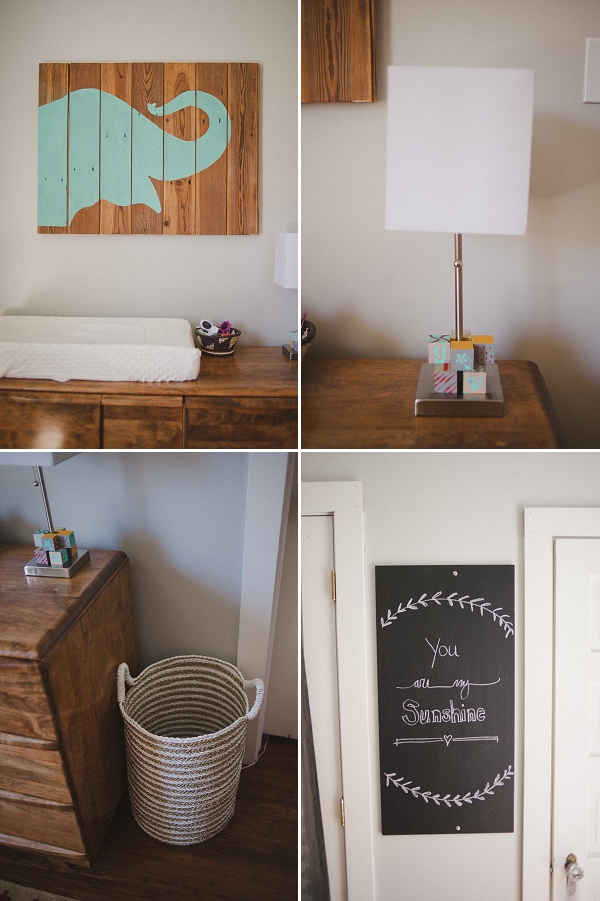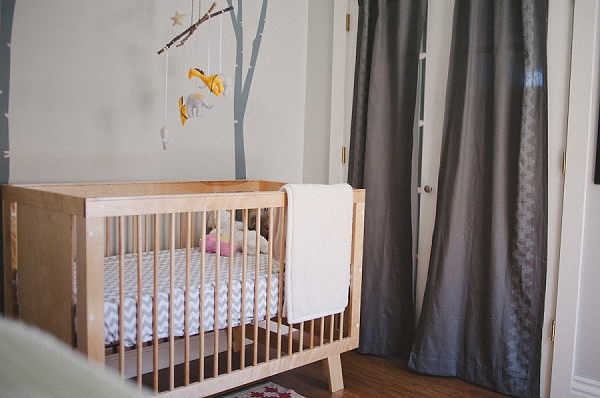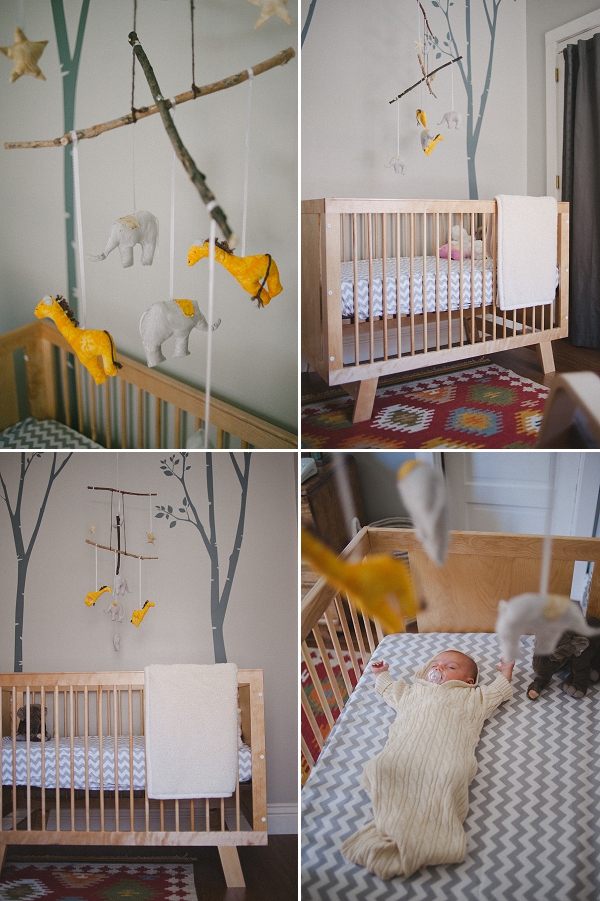 LISTmember Every Day Life Photography
From momma, and photographer Rachael:
We had a few constraints when it came to designing our nursery. For starters, we didn't know if it was a boy or girl, so I had to come up with decor that wasn't too girly or boyish. I definitely lean more to the girly side, so it was a challenge. Especially when I thought it was a girl the whole time! The 10x10 room also has 4 doors plus a window: a pair of french doors, closet door and a door to the hall way, basically leaving very little usable wall space. And I really wanted a room that would grow with D and not be too babyish. The rich tones of red, mustard and blue were perfect for a gender neutral room that was grown up enough for mama, yet still perfect for a little baby.
We painted the walls a light grey a few years ago in anticipation of it being a babies room someday. The year before we got pregnant I took a trip to Nepal, and while I was there, I fell in love with a cute little stuffed elephant. That elephant became the stepping-off point for the rest of the decor. "Elephant inspired" and not "elephant themed"... that was a tough one for my family to understand. I found the rug on overstock.com, which has free shipping! Definitely a plus when shipping a rug. I love that it has an Asian/south west flair to it. Shortly after getting pregnant, I came across the poster. It was a bit expensive, but it benefited families in Africa. Teaching Delilah Grace that we're all connected throughout the world is really important, and I feel like the poster conveys that well (plus it's the perfect color).
To take the elephant inspiration one step further, I had my Dad help make the art piece over her dresser. The wood is reclaimed from Dad's farm (he guessed it was about 60 years old). He even drew the elephant. My father-in-law also has a crafty hand, and offered to build a bassinet for our little peanut. We asked if it could be a crib instead. Luckly he agreed! We drafted up a design for him, and he took it to the next level and bought the best wood and environment friendly sealant. The final product blew us away.
For some of the accessory details, I reused old frames from my own studio on the walls, and thrifted a few others. The blocks were done by friends at my baby shower, all in the colors of her room. We still have a plan to write Delilah's name in the left-over blocks. The knitted blanket was done by a good friend, and the chalk board is actually part of our old Ikea coffee table painted with chalkboard paint. The mobile came from Etsy. All in all, I love how it all came together: neither too boyish nor too girly. Perfect for our little peanut.