Remember
Julia + Jacob's maternity photos
, packed with style and color and perfectly paired patterns? You know I couldn't wait to see their taste translated to nursery design for their gorge little daughter (and Vivienne's future shopping buddy) Eloise. Please note that the entire family is dressed to coordinate with the nursery. I mean, could I love them more?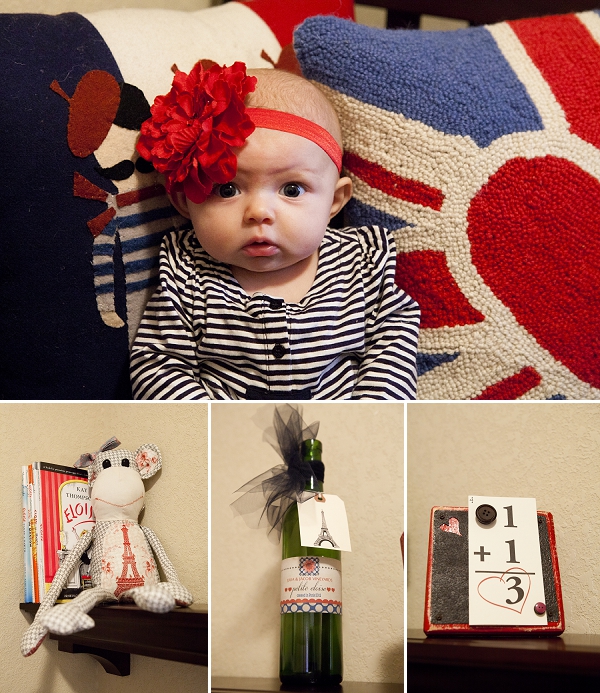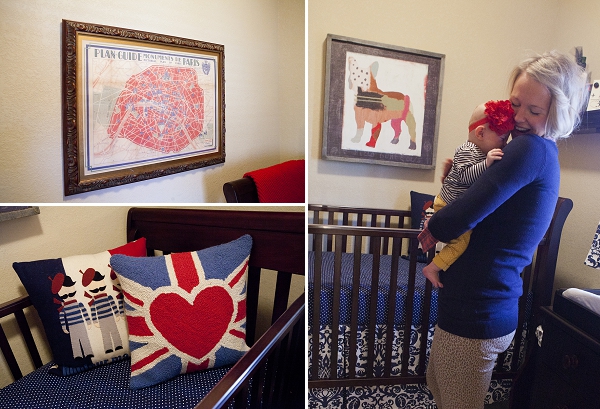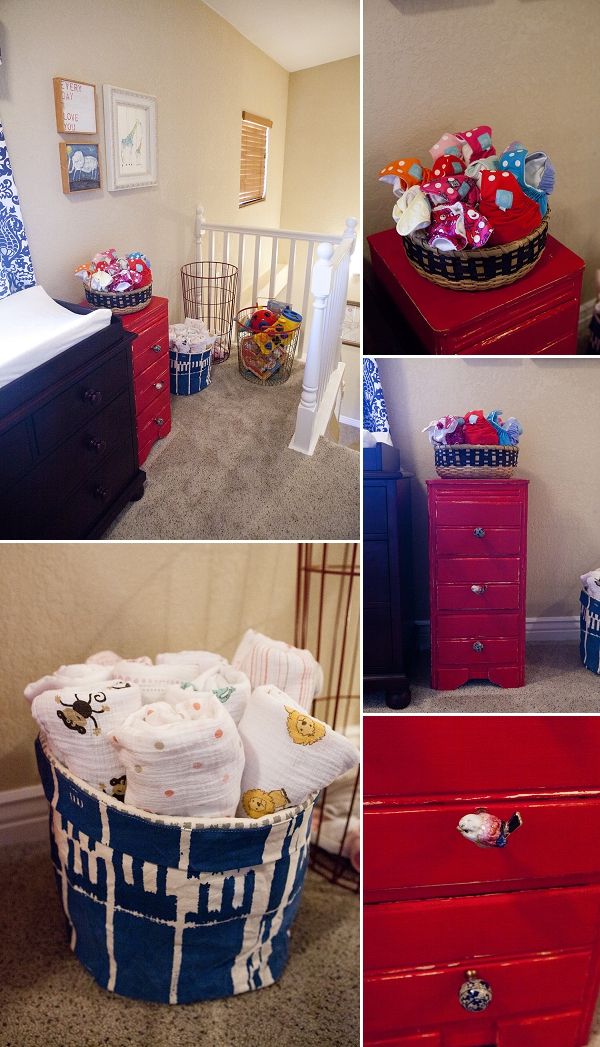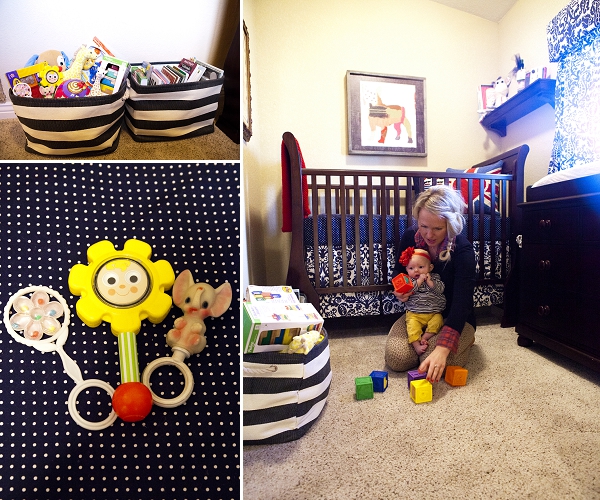 From Mom Julia:
We live in a small home - so we had to get creative when we found out that Eloise was on the way. We didn't want to give up the guest bedroom (we definitely need a place for grandma to stay when she's in town - free baby sitting!) or the office as I work from home. When the builders flipped our 1894 home - they left a random nook of space just outside of the master bedroom. It sits atop the addition that they added to the lower level - and it's perfect for a small nursery. Someday Eloise will need an actual door to her room - but until then, it's does everything that we need it to. I mean, how much space does a baby really need?!
Because the area is sort of a segue to the rest of the house - we needed the décor to flow with the rest of our home design. As much as I love myself some girly pink - we stuck with rich browns, navy and red for Eloise's nursery. The very first thing I picked up for the nursery were the London and Paris pillows from Hutch and Fig. From there, I let those be my inspiration and I just rolled with it.
The first thing we tackled was Eloise's crib bedding. As it turns out, it's nearly impossible to find red or navy bedding for a girl. We eventually found Firefly Furnishings and found out that we could do custom bedding for a very reasonable price. I could literally bathe myself in fabric swatches - so this was a blast. It was an awesome starting point to the rest of the nursery. We had Firefly Furnishings do the bed skirt and sheets - and we purchased the fabric and did our own drapes and valence.
From there, we decorated the walls. We love whimsical and colorful art - so we decided to go that route in the baby's room as well. I'm totally obsessed with Sugarboo Designs. They're a family of 4 from Georgia that does all of their art together as a family on reclaimed wood. It's so fun and youthful. Once Eloise is done with it - I'll happily move it to another location in our home. We picked up the giraffe print on our "babymoon" trip to Santa Fe, NM at an art fair. The rest of the artist's pieces were literally blood and guts - then he had this adorable giraffe print that was so innocent and sweet and cute. We snatched it up immediately! The vintage Paris print is actually wrapping paper that I just had framed. It was literally $5 - but it fit the bill perfectly.
Laundry and toy storage isn't the most exciting thing to buy, but Land of Nod seriously has the best storage options. Their stuff is so modern and awesome. I literally outfit about every storage bin in my home with their stuff. I mean, closets deserve to look cute too, right??!
We of course needed to add some sweet personal touches here and there. The adorable stuffed monkey was hand-sewn by one of my dearest friends - and all of the "Eloise" books were gifts from family and loved ones. Eloise's Grandma Hansen gave her the 1+1=3 card and her Nana Baker hand-wove the navy/brown basket that holds her diapers. The wine bottle was the inspiration for my baby shower that my dear friends threw for me. It's seriously the cutest! The label is custom from "Jacob and Julia Vineyards" and "Created in Paris 2012". (Note: notice the wine is gone from the bottle because you better believe that I downed that bottle of wine pretty quickly after Eloise was born!) The smaller red dresser was my mom's from when she was a 1st grade teacher. We just gave it a new coat of paint, antiqued the edges a bit and dolled it up with some Anthro knobs. Done and done!
DIY Projects
Custom wine label (from baby shower)
Handmade/ Etsy/ one-of-a-kind finds
Giraffe print (purchased at NM art fair)
Diaper storage basket (handmade by Grandma)
Stuffed Monkey (handmade by friend)
Furnishings
Accessories
Eloise books (gifted from family & friends)
Know of a stylish nursery that belongs on our blog? Submit it here, and we may send one of our on-assignment photographers out to capture it. Share your design skills with our readers, and then see more nursery style in our newsletter, and on our facebook, twitter, and Pinterest pages.