"Anyone remember the topsy tail? I know I know, it may sound a little retro, but this double wrap topsy tail tutorial takes an old school ponytail and quickly morphs it into a super trendy look that is guaranteed to turn some heads," explains
Latest-Hairstyles.com
contributor
Jennie Kay
. "This pony style works just as well for the office as it does for a day at the pool. Letís get started, shall we?"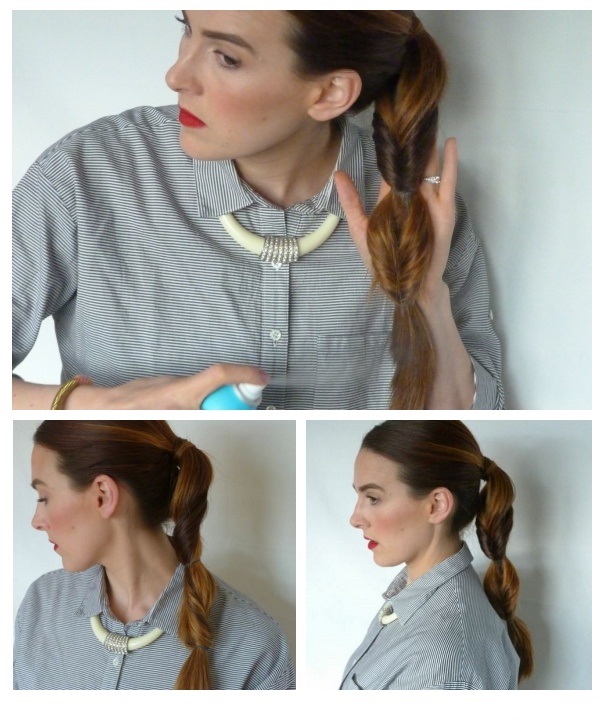 What You Need:
a hairbrush
a comb
two clear hair elastics
a few bobby pins
your favorite soft hold aerosol hairspray
a smoothing pomade (optional)
Step 1:
Using a brush, smooth hair into a ponytail at the mid to bottom of your neck and secure with a small rubber elastic.
Step 2:
Take a small section of hair from the ponytail (about 1/2-inch thick) and pull it aside.
Step 3:
Wrap that section of hair around the ponytail to camou?age the elastic and secure with a bobby pin. Spritz the hair in the ponytail with an aerosol hairspray (or smoothing pomade) and comb through to smooth the ponytail.
Step 4:
Using an additional small elastic, secure it midway down the shaft of the ponytail.
Step 5:
Spread apart the section within the elastics into two. Flip the bottom of the tail up and through the opening.
Step 6
: Repeat step 4 again.
Step 7:
Repeat step 5 again. Spritz the entire style with an aerosol hairspray to smooth ?yaways or frizz.