Planning a party in honor of a professional party planner has got to be an intimidating task. Even when she is as nice as momma-to-be Brynn... you know that she is going to notice every detail. Ann & Laura were facing this task when planning Brynn's baby shower. Yet, they let their excitement for baby-to-be, and love for Brynn and hubby Luke, be their guide, and created this laughter-filled party. We love the gender-neutral nursery rhyme inspiration, taken from the unbelievable heirloom quilt made by Grandma. From Ann Willoughby (sister-in-law's mother) and Laura Friedlander (sister-in-law), Baby Shower Hosts: When Brynn told us that she was pregnant, I really wanted to throw her a baby shower, as she is like a second daughter to me. So Laura, my daughter, who is also Brynn's best friend, and I went about planning the shower. When Brynn told us that her grandmother was making a nursery rhyme quilt for the crib, we thought that would make a cute shower theme. So we scoured the Internet looking for invitations on Etsy, and other nursery rhyme related items. One of our goals was to not have too many traditional baby shower games that we had all played before, and to also have something that Brynn would remember later. We found a
fill-in-the-blank nursery rhyme shower game
. and loved that. Decorating onesies and bibs turned out to be a huge hit. Michael's had a bib decorating kit, but it only had a few fabric markers in it. We purchased additional markers, stamps, brushes, stencils and fabric paint at various locations. I bought an additional bib kit and various onesies in different sizes, some with long sleeves, some short. I put wedge makeup sponges on the table that worked great for the stencils, instead of brushes. The guests rotated through at their leisure during the shower. We were amazed by the talent and the absolutely adorable items for baby-to-be. Another thing we had as a station, was a scrapbook station with cards for "Advice to Brynn & Luke". We had pens, stickers, and stamps that could be decorated to adorn the pages of the scrapbook of advice. These were both hits and added a personal touch to the many wonderful things that she received. Baby Shower Gift Bingo was a game that we played during the opening of presents. Whenever Brynn opened an item that was on the guests' card, then they could cross it off to try to get "bingo". Laura created adorable little cards for the different items of food on the table that were Nursery Rhyme related. These were a fun way to tie the nursery rhyme theme into every aspect of the shower, and help structure the menu. For example, deviled eggs were in honor of Humpty Dumpty, and pumpkin muffins for Peter Peter Pumpkin Eater. All in all I think the shower turned out great!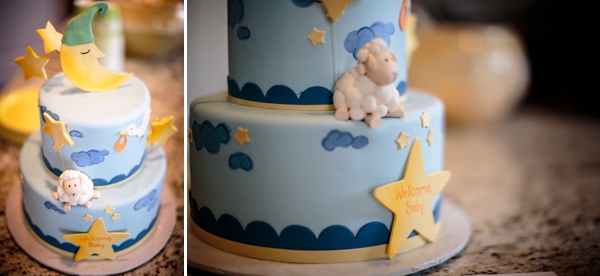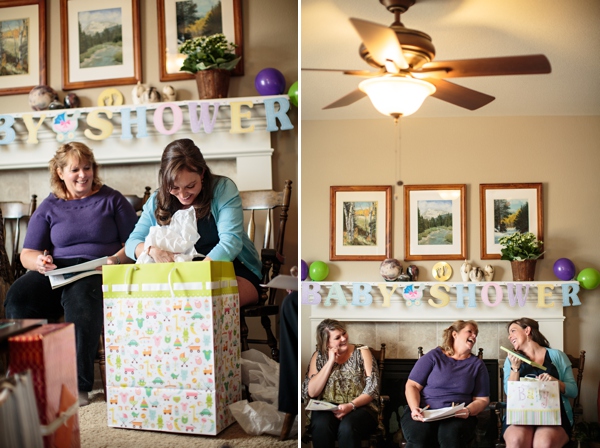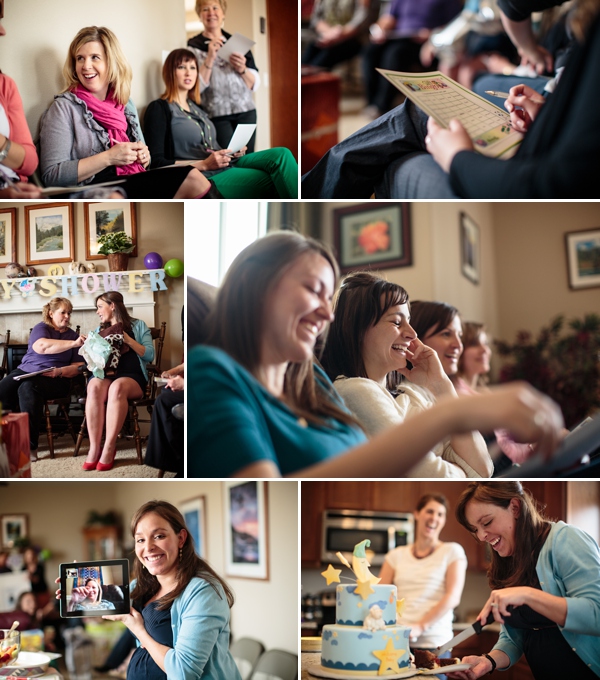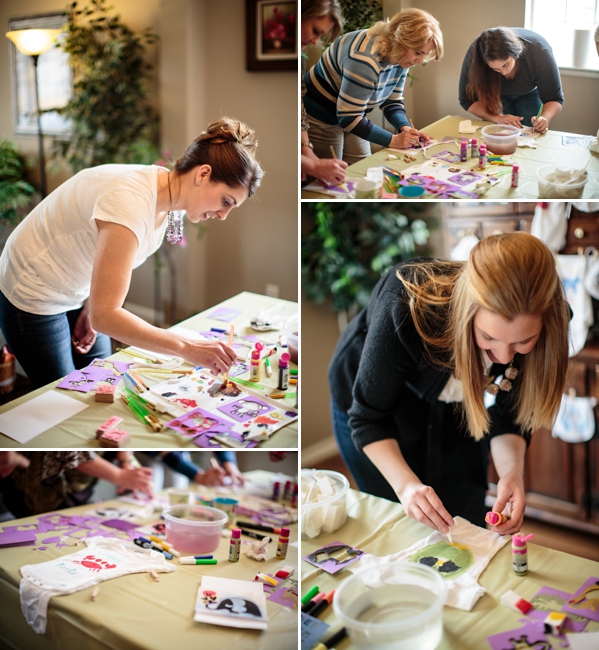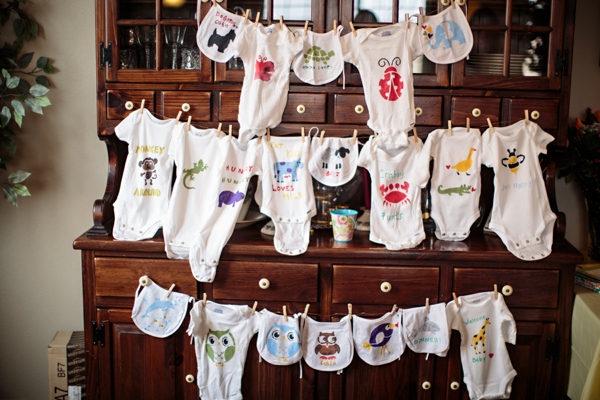 From the mom, Brynn of
Save the Date Events
:
I am a wedding planner, so it shouldn't come as a surprise to hear that I tried to plan my pregnancy as well! I really wanted to have the kiddo in the Spring so that I could still take part in wedding season. My husband said this was not something that I could plan... little did he know, that my pregnancy came about exactly as planned! From the beginning, my husband wanted to leave the gender of the baby as a surprise. Because I am such a planner, it took me a while to come around to the idea of this huge detail being a surprise. In the end I am glad that we waited to find out; it was a great moment to find out that we had a little girl! That being said, it was a huge challenge for Laura and Ann to do a unique gender neutral baby shower.
Ann and Laura created a party that was perfectly me. My mother-in-law spent 7 months hand quilting an AMAZING nursery rhyme quilt for baby Emma, it served as the inspiration for the whole party. Laura is a doctor and Ann is a computer specialist so planning a baby shower was not really in their wheelhouse. After the shower I told them if their careers didn't pan out that should start a baby shower planning company! I was blown away by their thoughtful detail, great food, and fun, non-cheesy games. I think the one thing I will always remember about my shower is how genuinely happy everyone was, the funny stories, and the love that I felt for me and baby Swanson. When I was looking through the amazing pictures from fabulous photographer and friend, Gina, I couldn't help but notice all of the laughter and how happy everyone was.
I was 36 weeks pregnant at the time of the shower and felt like I was ready to pop! So, it was really important to me to wear a cute dress that was comfortable since I was so far along in my pregnancy. I found a great dress at Gap and accessorized it with a red belt that I already owned and the most comfortable pair of red wedges ever! You can find the wedges at True Love on Broadway (in Denver).
I could not ask for a better group of people to celebrate my shower with. Laura and Ann pulled of a flawless baby shower. Special thank you to Gina, Jason + Gina Photographers for taking pictures and to Rachael of Intricate Icings for the amazing cake.
Emma Lynn Swanson was born on April 9, 2013. For the record I think only three people over the 8 months thought that I was having a girl, everyone else was convinced it was going to be a boy. Just goes to show you that the world has amazing surprises in store for all of us!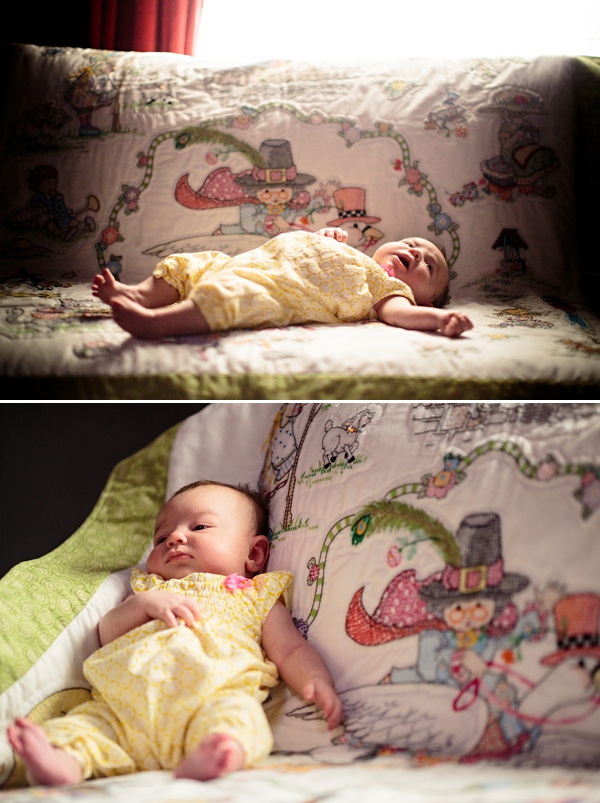 Warm congrats to you Brynn on the birth of beautiful baby Emma (shown here with the quilt that inspired it all).