I met Olivia's mom Bailey, a graphic designer at Think Pretty, Ink., when she designed adorable custom invitations for my best friend's baby shower. That was over two years ago, but we became facebook friends, and I loved seeing photos of her gorgeous daughters. One day, Bailey posted a photo of a project she was working on in baby Olivia's nursery, and my jaw dropped. Just from that tiny snippet of a photo, I was obsessed with the bright and happy space, and knew you readers would be too. Sometimes this job makes me do crazy things, and I messaged Bailey out-of-the blue to ask if I could send a photographer to shoot the room for the blog. Lucky for us, she agreed to share the details on Olivia's cheerful nursery, with loads of DIY and vintage finds.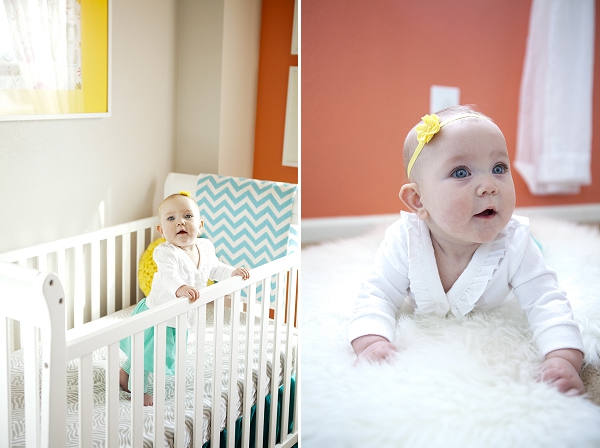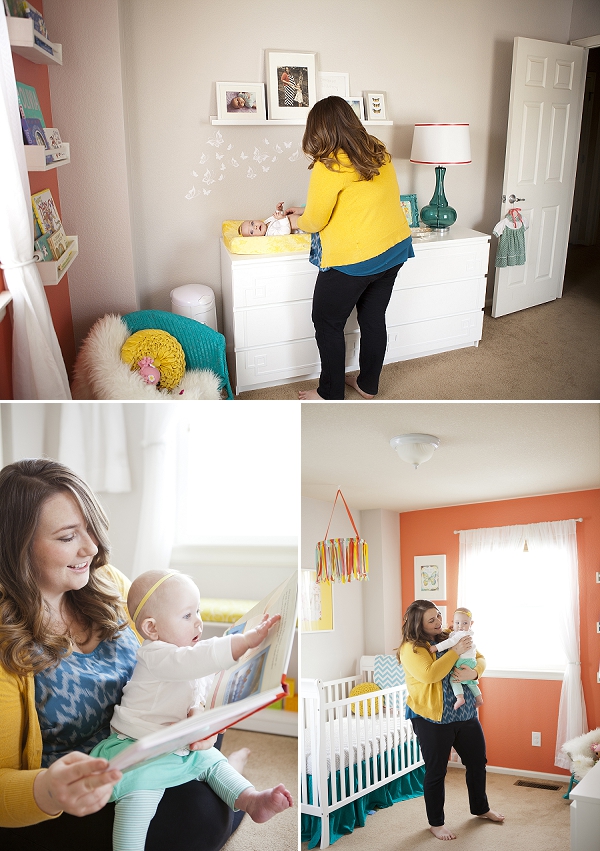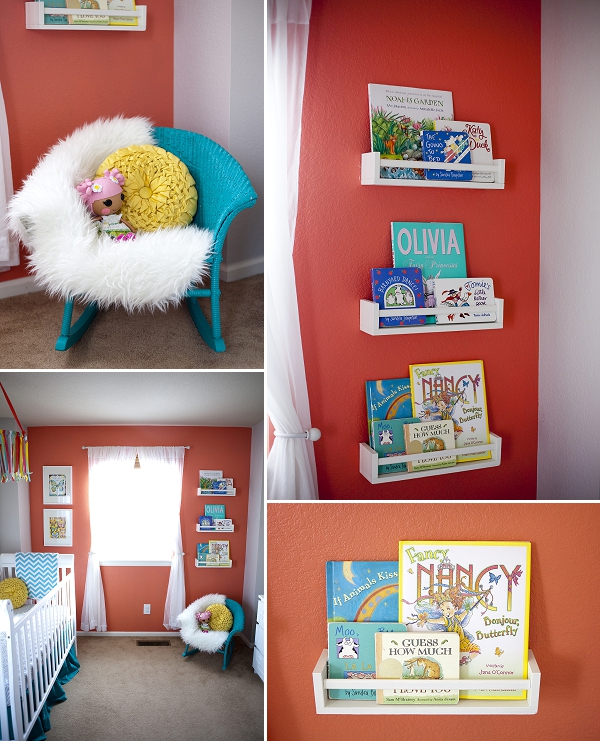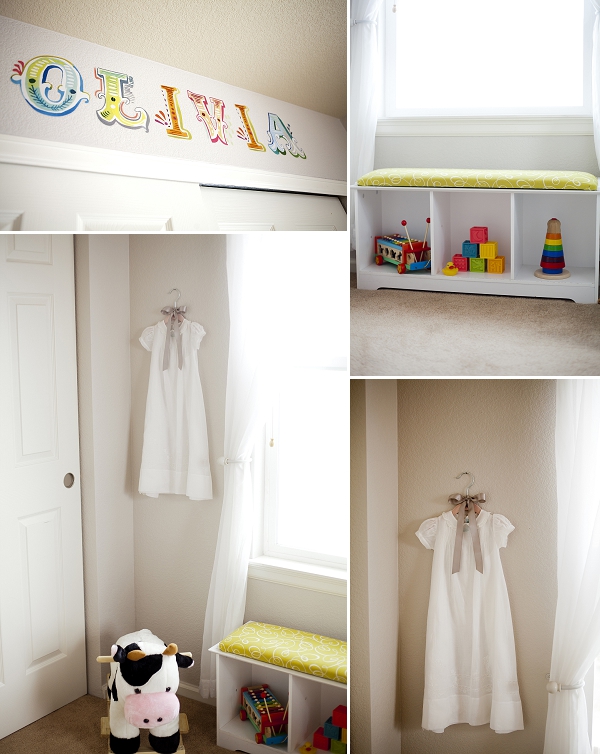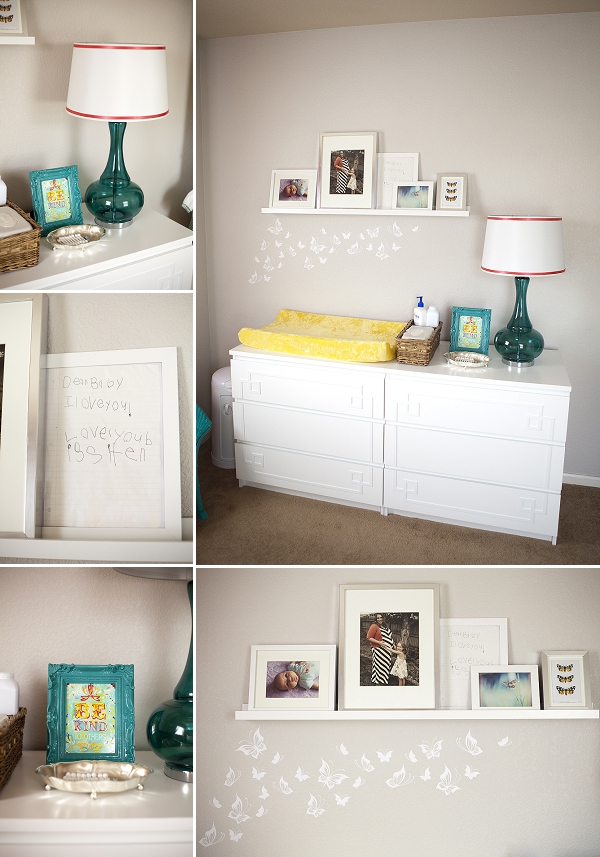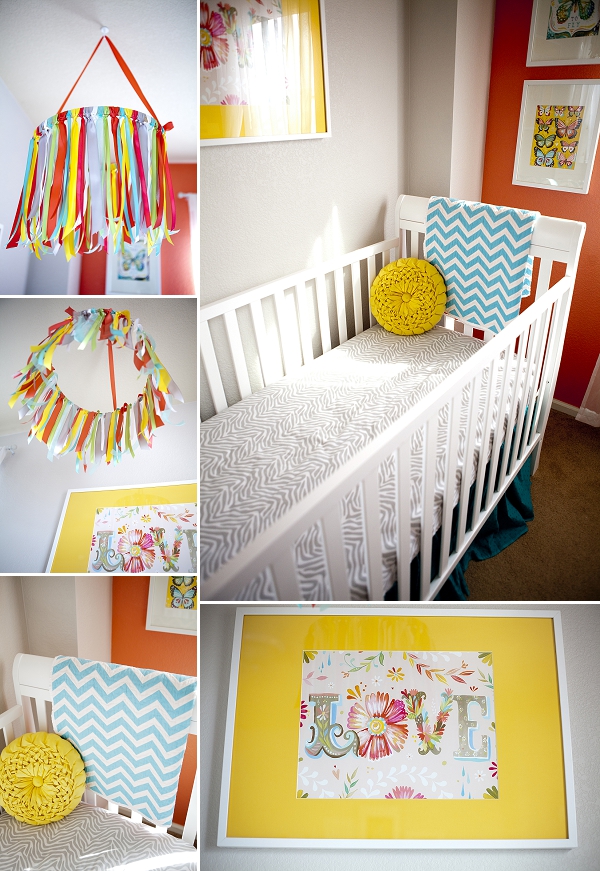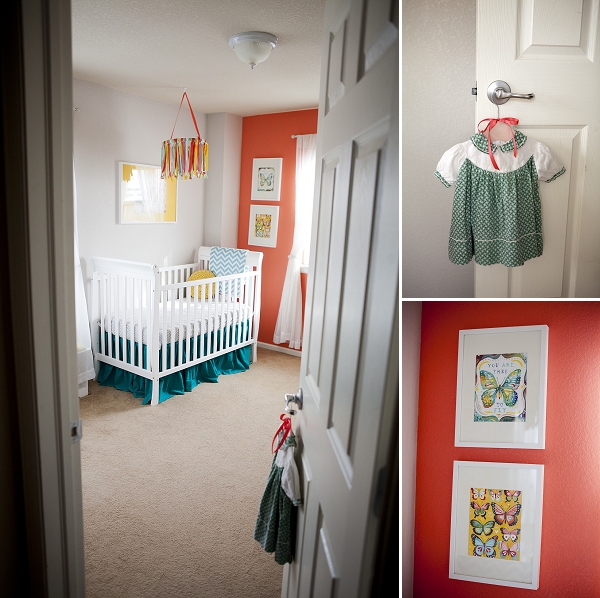 LISTmember Kelsey Bigelow Photography
LISTmember Kelsey Bigelow Photography
From mom Bailey:
Olivia's nursery has come a long way from what it used to be. It was originally the study and was painted "basketball" orange. While I was pregnant I decided I would try to work around that color. At the time I still liked it, and to be honest, I didn't have the energy to paint the room again. I found the "You Are Free to Fly" print and thought it would be perfect. It has the orange color in there, and the accent color of teal that I was wanting. It also gave us the butterfly theme. A few months after Olivia was born I knew I wanted to change the colors on the wall. I still loved the theme and didn't want to change those colors, only make them pop instead. So I went back to the Katie Daisy artwork to find complimenting colors for the wall. I still liked the idea of the orange and teal, but wanted it to be a little more girly, yet fresh and fun. That's how I decided on the coral accent wall.
When putting the finishing touches on the decor it was important we represented our family and surrounded Olivia with love. Emma, our oldest, wrote Olivia a letter at preschool that we framed. I also framed a photo of Emma and me when I was pregnant. The books on the shelves are some of Emma's favorite, along with the Guess How Much I Love You book that Olivia's dad gave me when we were dating. The reading corner is currently referred to as the "Big Sister Corner" so Emma can read to her sister, and the wicker rocking chair she sits in was mine when I was little, given to me by my grandma.
We also found items from my mom who is great at saving keepsakes. I literally went "shopping" in her basement to find family items. I found the vintage 60's pillows, the wicker rocking chair, and vintage dresses belonging to mom as a baby.
I am so happy with how it turned out. I love that it is a space that is happy and a room for Olivia to grow into.
DIY Projects
Accent Wall Paint - Ardent Coral, Main Wall Color - Popular Gray, Wicker Chair - Nifty Turquoise all by Sherwin Williams
Handmade/ Etsy/ one-of-a-kind finds
Crib Skirt (made by Liv's Grandma)
Chevron Quilt (handmade by a dear friend)
Window Seat Bench (Craigslist find, recovered with new fabric)
Goodwill Silver Tray
Wicker Rocking Chair (belonged to mom as a little girl)
Vintage 60's yellow pillows (from Grandma's basement)
Dress hanging on door (Liv's grandmas dress from the 50's) Christening Dress (family heirloom)
Furnishings
Crib, changing pad cover (dyed to match room), lamp, shade (with added ribbon), teal frame, gray Zebra sheet, all from Target
Accessories
Guess How Much I Love You Book (Gift from Liv's father to mother after dating two years)
Know of a stylish nursery that belongs on our blog? Submit it here, and we may send one of our on-assignment photographers out to capture it. Share your design skills with our readers, and then see more nursery style in our newsletter, and on our facebook, twitter, and Pinterest pages.