Entering Paxton's nursery at once feels serene, like the calm that comes from holding a sleeping baby. But the Western touches definitely also give it an "all boy" feel. It isn't often you can describe a room as tranquil, masculine, AND chic, but this nursery just does all that and more for me. Its quintessentially "couture colorado".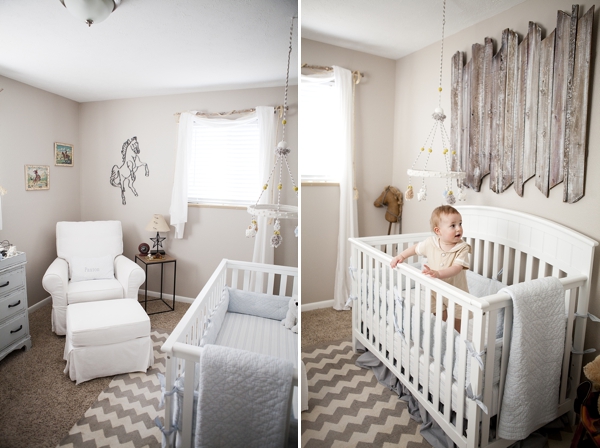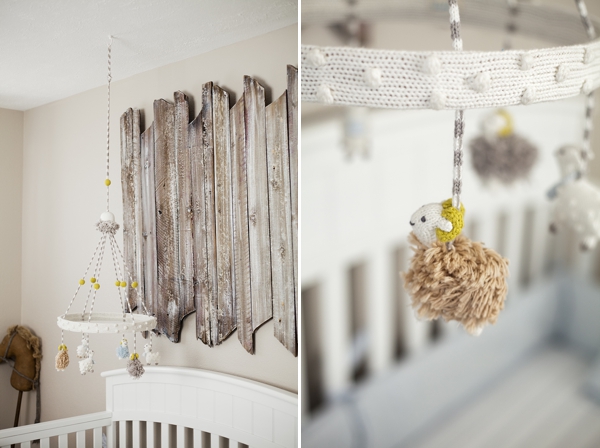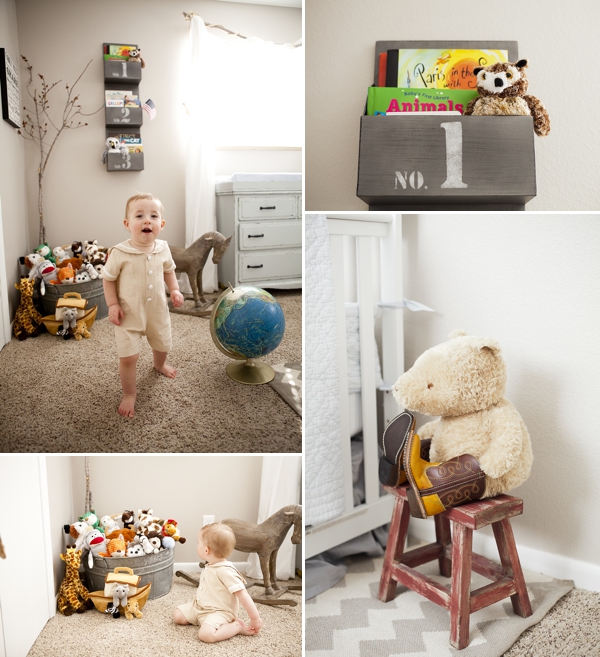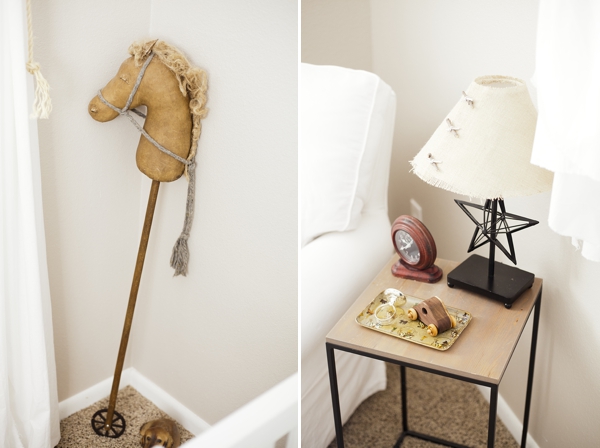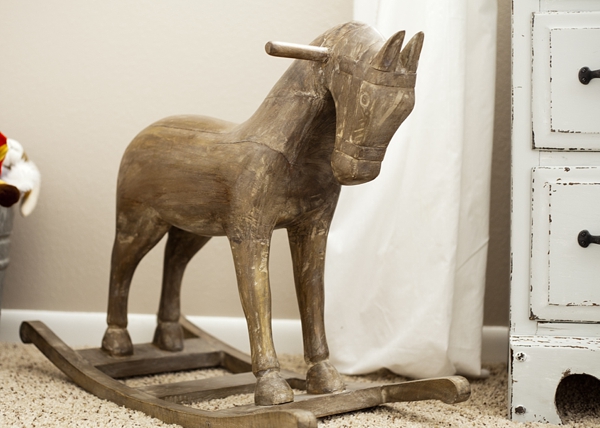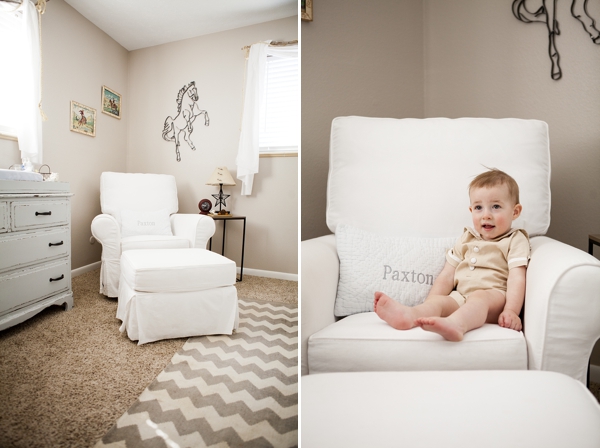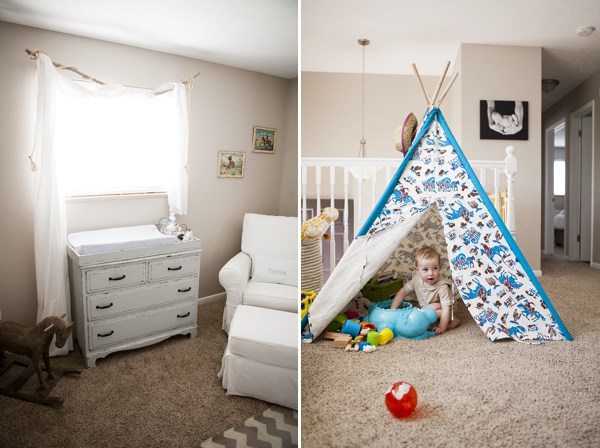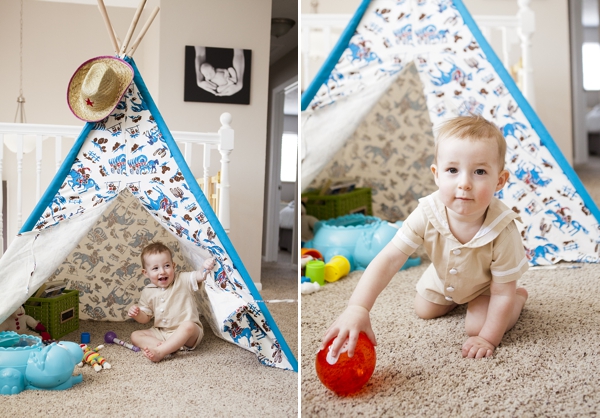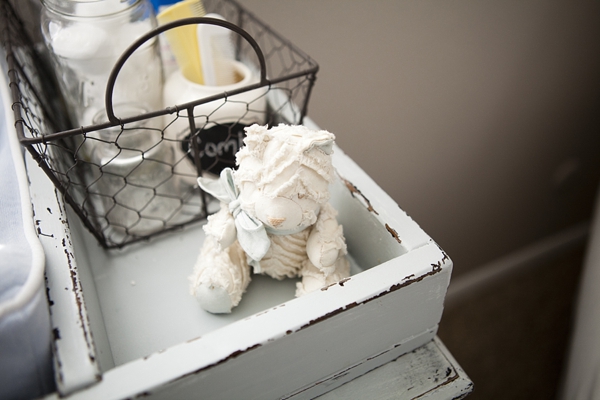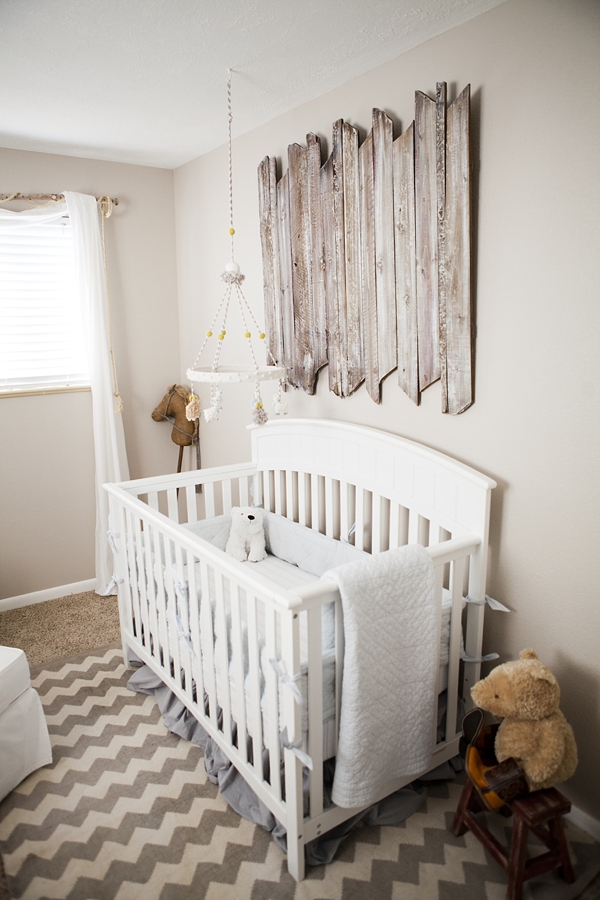 LISTmember Kelsey Bigelow Photography
From Mom Jenna, fabulous event designer and stylist of Paper Moss Creative:
Paxton's modern rustic cowboy nursery theme was inspired by his father, Dan's, love of horses and background in equine science and wrangling. A palette of soft grays, blues, tans, and white were chosen for a soothing effect along with pops of barn door red. The vintage paint by numbers were created by his granddaddy and great uncle when they were children and were also a big part of the decor inspiration. Paxton's changing table/dresser was hand finished and distressed by his Grammie to create a rustic look. Found tree branches were reimagined into curtain rods and draped with raw edged white muslin to create whimsical and dreamy window treatments. The architectural wall hanging above the crib was made from two identical wood decor pieces from Hobby Lobby that were taken apart and then re-combined. We plan to use it as a headboard when Paxton grows out of his toddler bed. Most of the stuffed animals in the vintage galvanized tub were gifts to Paxton from family and friends.
DIY Projects
Window Treatments - found tree branches + raw-edged muslin Distressed wood wall hanging
Handmade/ Etsy/ one-of-a-kind finds
Vintage paint by numbers by Granddaddy & Great Uncle Antique stick horse and ceramic puppy: antique mall in Georgia Vintage galvinized tub: antique mall in Loveland, CO Lamp: thrift store Small Horse Portrait: thrift store
Furnishings
Graco Crib Restoration Hardware Bedding Homegoods Bookshelf & Bins Pottery Barn Glider Restoration Hardware Rocking Horse
Accessories
Homegoods "Family Rules" Print Blabla Mobile (found in boutiques like Poppy in Boulder) Urban Outfitters Rug Hobby Lobby Metal Horse Wall Piece