While we all want a star-spangled home, for many of us we might want it to take a more subtle approach, rather than scream our patriotism from the rooftops. We want to express our pride in all things USA, but we donít want the stars and the spangles to take over our home and detract from the rest of our style.
Itís all in the color scheme
When youíve got
a blank canvas
, it can be difficult to know where to start. Without using the Stars and Stripes in every piece of furniture, on every wall, and over every floor, it could start to seem that achieving the all-American look could be a tricky challenge. Donít panic; itís
all in the color scheme
. Rather than flags adorning every surface, a far more subtle, classic, and beautiful l
ook can be achieved by drawing from the color scheme. You donít have to opt for poster pot red, white, and blue either. More subtle pastel shades, faded paint, or even rich, jeweled shades work well too. This is the perfect way to make the room suit you and your tastes, without turning its back on your patriotism.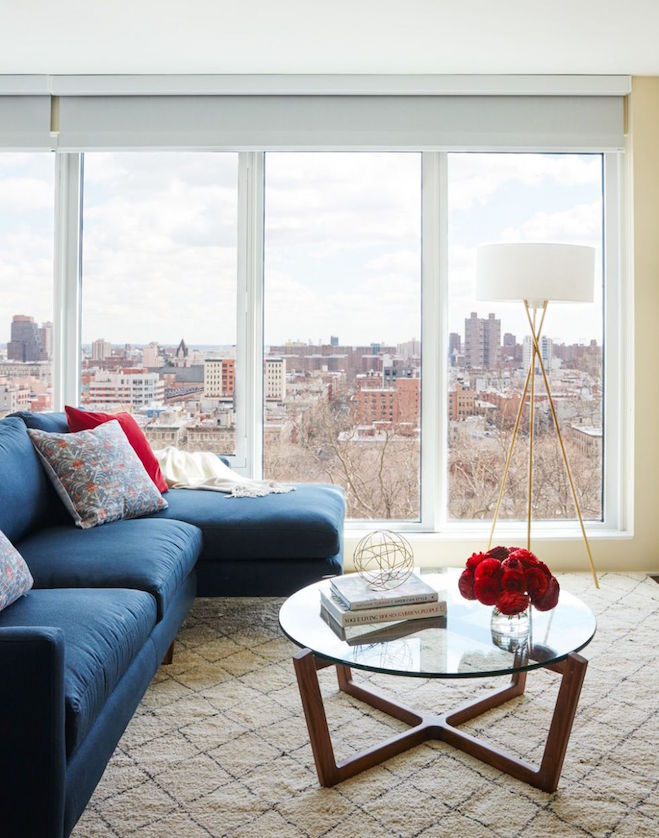 One particularly beautiful idea is to take the white and either the red or the blue, and make the majority of the color theme fit around this. You can then use the other color as an accepted shade in smaller furnishings and accessories, cornicing, and other more delicate ways. This is a great way to use the color scheme, without creating an all out Fourth of July parade in your home.
http://www.westelm.com/Alternatively, using a completely separate color palate, particularly neutral beiges and browns, wood cladding and exposed wooden floorboards, but accented with darker shades of red and blue can bring a stunning colonial feel to the decor, and a warmth and richness to the design.
Play with patterns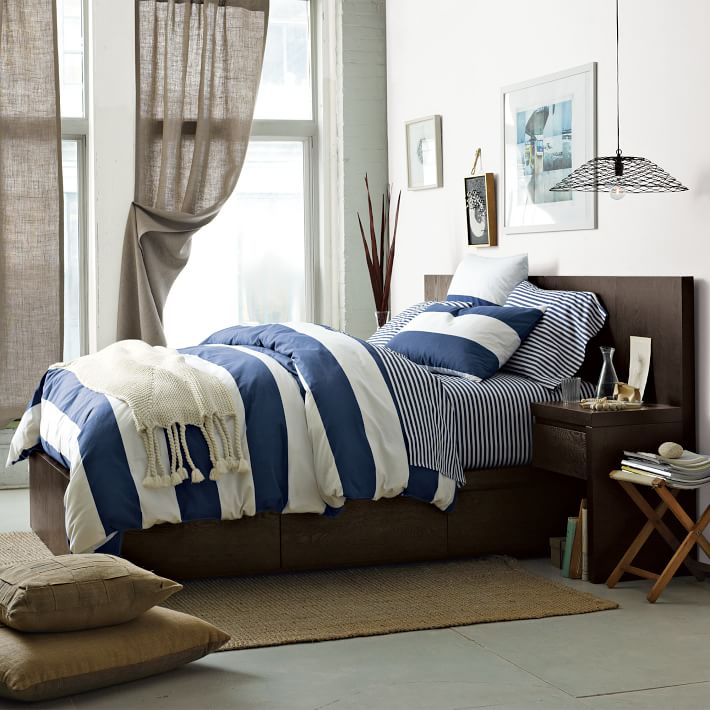 The beauty of the Stars and Stripes is the plethora of
fun and beautiful patterns
you can create with the color and shapes to suit your home. Using repeating white stars on a blue background as part of your decor is a great nod towards the flag, without being explicit or cheesy. And this can be used all over the home, in a border around the room, in soft furnishings such as cushions or throws, and even in larger pieces of furniture, such as your couch or bedding. Itís a beautifully subtle way to bring the colors and the style of the Star Spangled Banner into your home, without overdoing it.
The same goes for the beautiful red and white stripes we can take from our flag. The stunning naval and maritime themes that can be taken from this design can bring a really cute style to a room, while still staying modern and classic. And donít be afraid to mix up the colors a bit. White stars on a red background still have the same effect - the brain knows the flag too well to allow something like a mix up of colors to get in the way.
Think outside the box
Our pride and patriotism don't just come from our beautiful national flag; thereís so much more to it. How does your state pride, alma mater, or football team come into it? The beauty of choosing a color scheme such as the more neutral, woody one mentioned above is that it allows you to accessorize it however you like. This could be with Stars and Stripes, but it could be with elements taken from the
Colorado State Flag
, or the University of Denver football jersey. It leaves much more room for interpretation, and it doesnít tie you into your red, white, and blue color scheme.
Choose patriotic antiques
While you could go with poster paint colored wall hangings and ruffles, you could step up up a notch with beautiful, poignant, and
historical artifacts
. It adds a feature of intrigue to a room, but it also brings a touch of luxury. A historical flag, dug out in an antique store, dating back to the Civil War, can be a beautiful touch. How about vintage license plates hung on the wall to create a whimsical but patriotic piece of classic art? If you do want to use the flag in your decor, why not consider an aged version, which would blend seamlessly into the rest of the decor and give the room a distinctly colonial feel?
Digging around antique stores is always fun, and as long as the shopkeeper knows their history, you could find some real gems. Keep an eye out for items specific to your state, but remember not to compromise on your tastes. Yes, it might be a genuine oil painting from the time of the Revolution, but if itís going to clash with your decor tastes, itís probably not worth it. Itís all about striking that balance.
image #1: by david a. land on
elle decor
image #2: west elm