Guest Post by Rebecca Gart , a Contributing Writer and Editor-at-Large for Colorado Homes & Lifestyles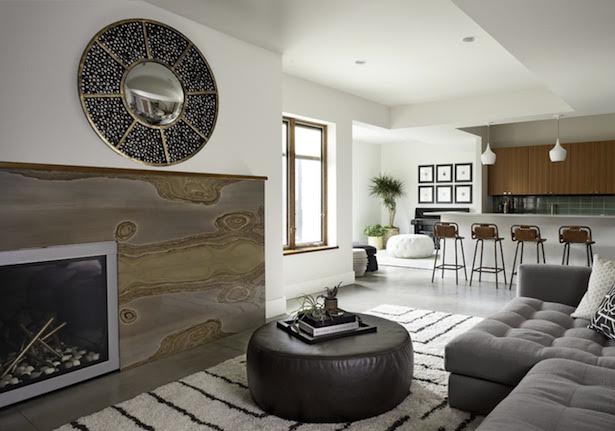 1. Hardworking Fabrics:
2016 is the year of bringing outdoor fabrics inside the home. "They have always been great for durability, but now they can be soft to the touch and so luxurious that you can't tell they are outdoor fabrics," says Denver interior designer Jill Firkins. The patterns are quite beautiful, too. Check out Donghia and Perennials outdoor fabrics for the living room, dining room and kitchen.
2. Unplugged Family Rooms:
As more people are watching television on iPhones, iPads and computers in any room in the house, the big TV set is becoming obsolete. We are seeing more and more people to go a little less 'tech' in some rooms of the home, instead opting for a quiet space for reading or catching up with family, playing games or just chilling out. As family rooms go more casual and relaxed, look to see more sectionals (great for sprawling out).
3. Dark Painted Cabinets:
Charcoal, navy, even black, says Denver interior designer Ramey Caulkins. "Afraid of painting all your cabinets a dark color?" she asks. "Paint only the cabinets on your island a dark color." Caulkins lists a few of her favorite dark-hued paint colors: Benjamin Moore Dragon's Breath; Farrow and Ball's Hague Blue; Fine Paints of Europe's Hallendac Finish in Interior Black. In addition, I suggest using one of the new colored stainless steels on your appliances as a dark alternative to the shiny stainless steel traditionally used.
4. Moving Beyond the Transitional:
Slifer Designs in Edwards is gravitating to a more eclectic and multi-century mix of upholstery and case goods. "A favorite style epitomized by Belgian Axel Vandervoordt is a blend without clutter of white upholstery with rustic tables, combined with modern classics like the Eames Egg Chair, Saarrinen Tulip Tables and a few European antiques," says Beth Slifer.
5. Mixed Metals:
Copper, brass and rose gold metals will still be popular in 2016, but this will be the the year of mixing materials. Think a stainless steel fridge with a copper hood and blackened steel pulls. Mixing of modern materials in finishes and colors can lead to a more lively, eclectic look. Look for even more softer-colored metals in 2016, including finishes such as rose, burnish bronze and patina bronze, says Denver interior designer Conni Newsome
6. Dramatic Wall Coverings:
Yes, wallpaper is still the rage, with prints, custom graphics, and textures leading the way.. "Wall coverings are all about Chinoiserie, with fun playful textures and colors," says Newsome. "Wallpapers are being used more as expressions of art." Check out her favorites: Fromental and Timorous Beasties. I also like Hygee and West (
hygeeandwest.com
) for chic, modern wallpaper design.
7. Open Shelving:
As kitchen layouts continue to evolve into more fluid and airy spaces, open shelving makes life easier, literally adding new life to the term "grab-and-go." Of course, this means you may have go out and buy chic, new dishes (I got mine at Crate & Barrel). Try cream-colored dishes, says Denver architect Elizabeth Metz, who also agrees that softer, organic modern elements will continue to have their moment in 2016.
8. Global Style:
Globally crafted goods from artisans in indigenous cultures will remain strong in home design in 2016. In particular, Guatemalan fabrics and colorful weaving with their vivid hues and patterns will be a staple of urban home decor. In global textile trends, Newsome says she is seeing bold graphic patterns, organic textures with a glamorous edge, and luxe hands. "Alpaca is the sustainable-design spirit animal of the year with hair fibers that are hypoallergenic, strong, incredibly soft, with lustrous natural colors," she says. "AND you don't have to harm the animal for their fur!"
9. More Pattern, Richer Hues:
"I think we may finally be 'grayed' out," says Firkins. Wall colors are still chic when they are pared down and neutral, but dusty, pastel hues are being introduced with hints of green and light blue. Beth Slifer agrees: "There is now more emphasis toward more color and bright accents and away from the sameness of monochromatic rooms. Grey and beige are being reenergized with colorful accessories."
10. Minerals and Natural Stone:
From onyx bowls on the entryway table to sandstone powder-room sinks to huge chunks of quartz on the fireplace mantle, geodes of all shapes and sizes will be the rage in kitchens, bathrooms and home accessories. "Full slabs of exotic stone are now being used on fireplaces or to line walls in dining rooms," says Newsome. "It's a great way to add high-end drama to a room. Seeing a slab of stone on a vertical surface is much more interesting and appealing than on a horizontal surface of a kitchen counter top." (see photo)
Bonus trends:
**Formal Dining Rooms: This is the comeback year of the sit-down dining room. For fun, mix up the style and brand of chairs at your dining table. "Perceived spontaneity....pull up a chair...any chair," says Caulkins. Now, can we please bring back the dinner party? **Polished Bathrooms: Caulkins says timeless classic white-tiled bathrooms will never go out of style. Think classic 2-inch hexagonal white-ceramic tile floors with white subway tiles on the walls. Use a charcoal grey grout for a more industrial look. "Wallpaper the ceiling for a completely unexpected moment," she adds. "Your bathroom will feel like a jewel box that will never be outdated." **More trends to watch for in 2016: Fireplaces, bidets, Smart Homes, statement mirrors, heated entryway floors, mismatched kitchen cabinetry, bringing the outdoors in, and sustainable and recycled products.
Guest Post by Rebecca Gart, a Contributing Writer and Editor-at-Large for Colorado Homes & Lifestyles
Photo Credit:
Emily Minton Redfield
About Colorado Homes & Lifestyles
For the past 35 years, readers have turned to Colorado Homes & Lifestyles for the best in Colorado architecture, interior design and real estate, and news about home design products and trends, local events and travel destinations, and the state's most fascinating people. Colorado Homes & Lifestyles is owned by WiesnerMedia, LLC, a consumer and trade publisher based in Denver, Colorado. Founded in 1982, WiesnerMedia is a full-service, nationally recognized company that owns a portfolio of award-winning magazines and newsletters in a variety of industry verticals, including home design, travel, higher education, the performing arts, business and energy. Learn more at coloradohomesmag.com and wiesnermedia.com, and follow news about Colorado Homes & Lifestyles at Twitter (@CO_homesmag).