Facing the dilemma of what to do with an extra room in your house is one that could be considered a good 'problem' to have. After all, most homeowners are forced to deal with the alternative whether it be a shortage of bedrooms or a lack of an area for the kids to play. If you've got a spare room there are a few things to consider when it comes to what to do with it – functionality, market value, improved quality of living, etc. Here's how to help make those decisions.
Your Functionality is Key
If you're renovating a home that you currently live in and plan on doing so for an extended period of time, it's important to turn the spare room into something that you can enjoy. For one, it appeases one of the reasons for doing a renovation in the first place which is increasing your quality of life. Not only that, it's almost impossible to remodel with a future buyer in mind. Even if you view the
family website
of somebody who is going to buy your home it's hard to know whether they'd benefit more from a home office, a storage room, a guest bedroom, etc.
Creating a Room Multiple People Can Enjoy
One of the best ways of determining what to put into an extra room is to evaluate what the entire household could benefit from. Of course this varies on a home to home basis but a room for
games
, a home theater, a craft room, a home office, etc. all have different value depending on what your family is involved in.
Adding Value to the Home
Ideally the ultimate renovation of a spare room will be a combination of something the whole family gets use from now but also increases the value of the property for future buyers. Modern buyers are looking for a
home office
, a
separate laundry room
, a
walk-in closet
in the master bedroom, etc. all which should influence what to do with your extra space.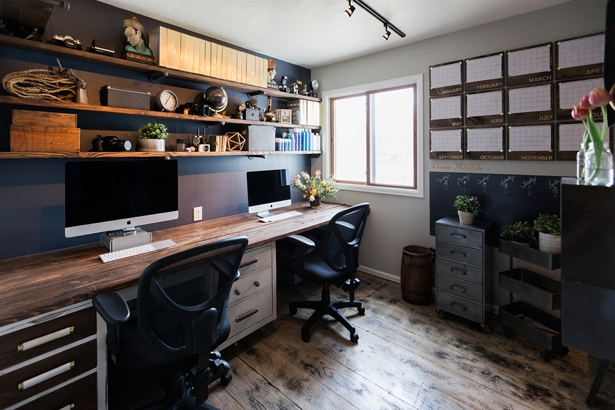 Check out this home office renovation on CC LIFE & STYLE
Being As Flexible as Possible
Another key with your extra space renovation is not making it a permanent fixture. Remodeling a room into a home office or a theater is relatively non-invasive for future buyers to disassemble but some time in the future you (or a buyer) may just want the space...and not an
indoor hockey rink
.
Sponsored Guest Blog Post by
Michael Peggs is the founder of
content marketing agency
and SEO agency Marccx Media, where they specialize in SEO and Content Marketing. Before Marcxx, Peggs worked at Google in business development, forming digital media and advertising partnerships. He is also a blogger and podcaster, hosting the iTunes Top 10 New & Noteworthy podcast You University – The Personal Branding Podcast.