Notes from the bride and groom, Amy and Kalen:
Tell us about your wedding! What was the inspiration behind your day? Did you have a specific theme, style or color palette? Did you incorporate any cultural or religious traditions in any part of your day?
We are both total book nerds and wanted a classy, literary themed wedding! We based our whole wedding around the book theme, using lots of books to decorate. We used some of our favorite books as table assignments and used some of our favorite quotes from books to decorate our wedding cake. We even had our ring bearer bring up our rings inside an old vintage book!We wanted the style of our wedding to be classic so our colors were navy, dusty rose and gold. We had a non-religious ceremony but did include some religious readings during the ceremony which both my mother and my mother-in-law read.
Let's talk wedding decor. How did you decorate your space for the ceremony and the reception? Was any part of the decor DIY?
With lots of books! We had the "table numbers" actually be different books and the place cards were bookmarks that also doubled as wedding favors. I ordered all of that through an Etsy shop called BrooklynPaperFactory. We also bought an old typewriter for guests to write advice for us on and it also served as a cool decoration piece.
What were the florals like in your wedding? Did you use flowers in any of your design elements like the bridal bouquets, centerpieces or ceremony backdrop? Did they play an important part in the overall style of your wedding?
We used minimal flowers because we decorated mostly with books, but I did have a beautiful bouquet made. My bridesmaid's also had bouquets and the men had boutonnieres. We also used simple, white rose petals to decorate the guests tables. We used the bridesmaids bouquets to decorate the head table. D
id you personalize the day in any way (food trucks, guest entertainment etc.)? What were some of your favorite parts of your wedding?
We had late-night food served including cookie ice cream sandwiches which were something that I really wanted to do because my college was known for them. All of my college friends loved them since nobody had had that dessert since college! We had food trucks for our rehearsal dinner, which was also really fun!The only other personalized thing I can think of was that we created a signature drink. To go along with our book theme we had a drink called Amortentia (which is a love potion from the Harry potter books) that a bartender made up for us and was served at the wedding!
Let's talk fashion. How did you choose your wedding day look? How did the groom? Describe both looks in detail.
I had mostly found wedding inspiration for my look on pinterest. I knew I wanted something elegant and fairly simple. I needed lots of lace! I went wedding dress shopping with my mom, sister and two of my bridesmaids to find the perfect dress and I found it pretty quickly. We choose our colors together by looking at fall themed color palates and I let my husband pick out his suit! He did a great job! He choose navy suits for him and the groomsmen and the bridesmaids wore dusty rose floor-length dresses, with lots of lace to match my wedding dress. We met at the Grand Hyatt Denver when we both worked there. I got a job there when I moved to Denver and Kalen was already employed there. We were just friends for the first few months that I worked there but he eventually wooed me with his witty charm and sense of humor. Fast forward three years and we decided to get married in the beautiful Pinnacle club at the Grand Hyatt Denver since that was where we met and it is an absolutely gorgeous venue! Two and a half years after we met he proposed to me on top of the Sand Dunes in Alamosa, Colorado. We had just spent Thanksgiving weekend with my family in Durango, CO and he apparently asked my parent's permission that weekend. He had brought the ring he already picked out to show them. He apparently was planning to wait a couple more months to propose but when we decided to stop on the way back to Denver to hike the sand dunes, he stuck the ring in his pocket just in case it felt like the right moment when we were up there. Apparently it did because he pulled out his phone at the top to record the beautiful view and then videotaped his proposing to me. It was perfect!
What was the most anticipated or special moment of your wedding day?
Out first dance was really memorable. We took dance lessons and learned a special dance to our first song "I Choose You" by Andy Grammer. It was a really special way to start off our reception!
Do you have any wedding planning or marriage advice that you'd like to share with other couples planning their day?
I think my advice would to make sure you relax and enjoy the whole process. The planning can be a lot of fun if you make sure to stay on top of everything, but if you wait until the last minutes to plan things, or worry too much about the little stuff, it can become a little stressful. I'm glad we planned things out well and had regular meetings with a wedding planner to keep me on track! I'm also so glad I had a great day-of wedding planner and family and friends there on the day of the wedding to keep me calm and collected before the ceremony. Once I saw my groom I knew there was no reason to be worried about anything :) In regards to what things to spend money on and what to save on, I would say I'm super glad we spent money on great photographers (the pictures we have are absolutely breath-taking and captured all aspects of our wedding day so well), a good wedding planner, and a great venue with amazing food!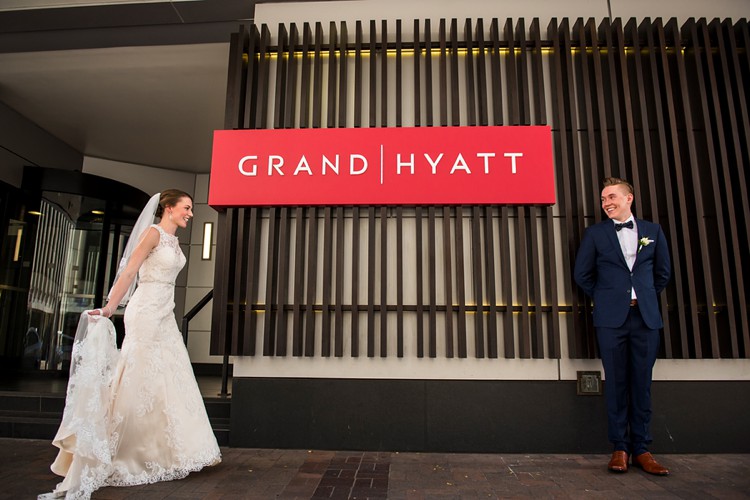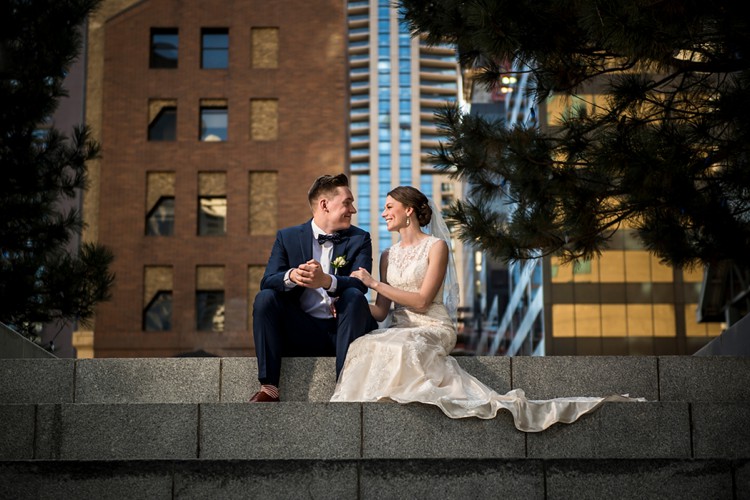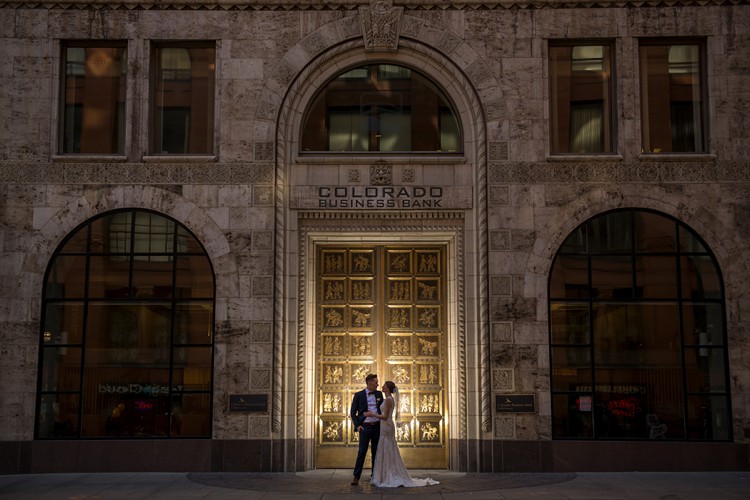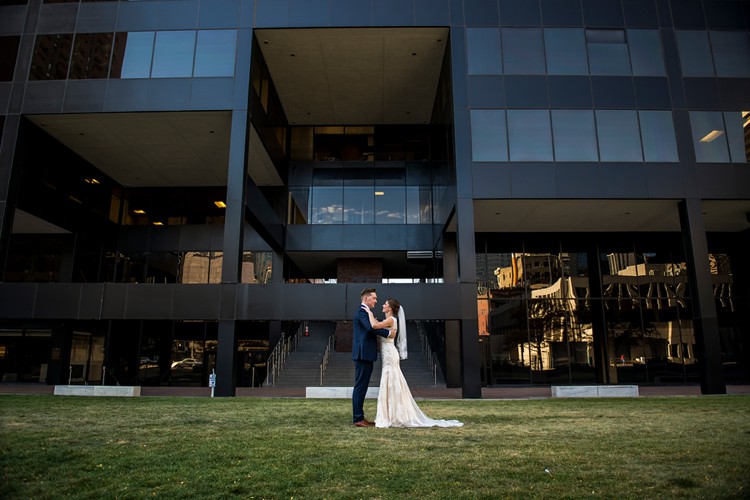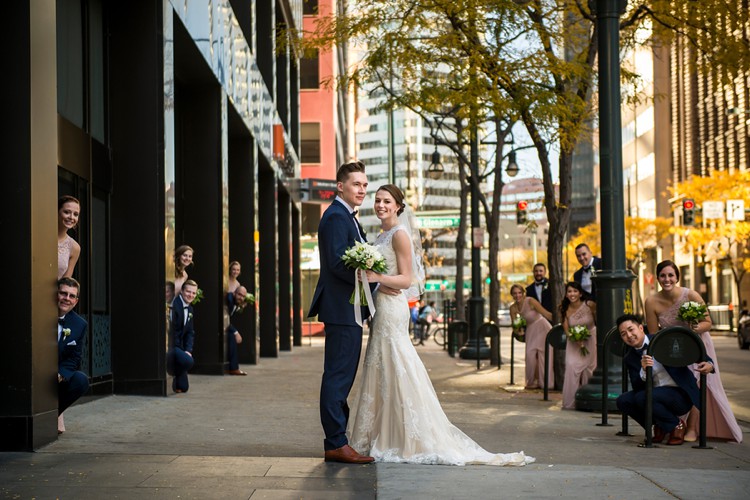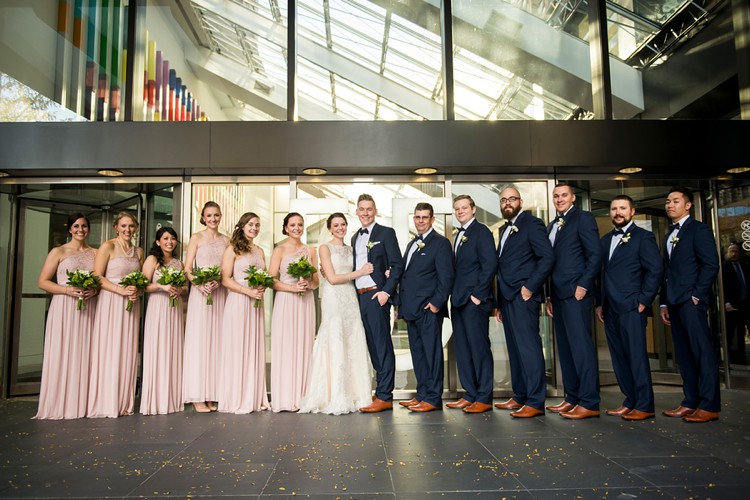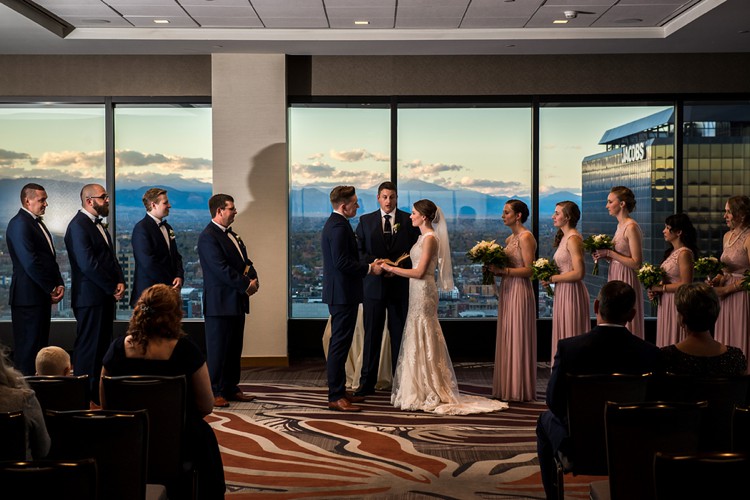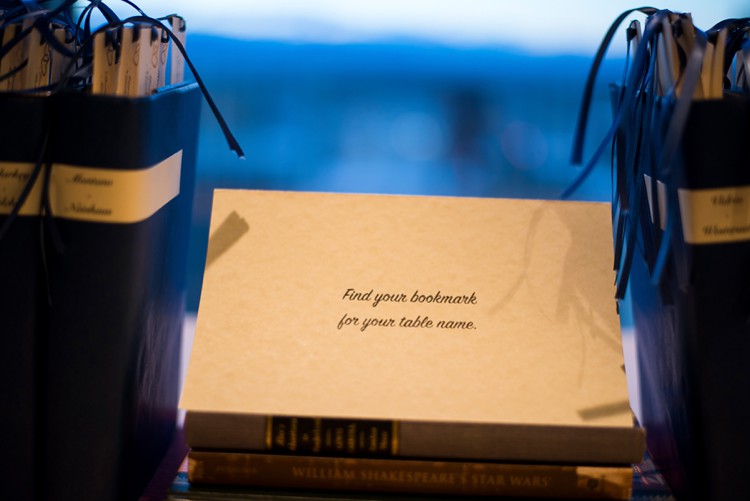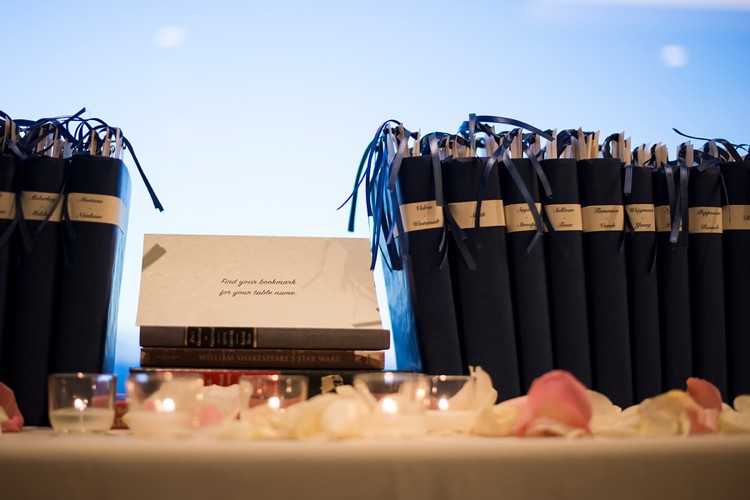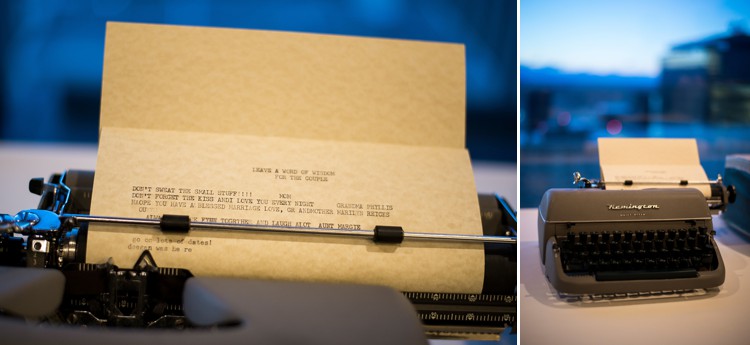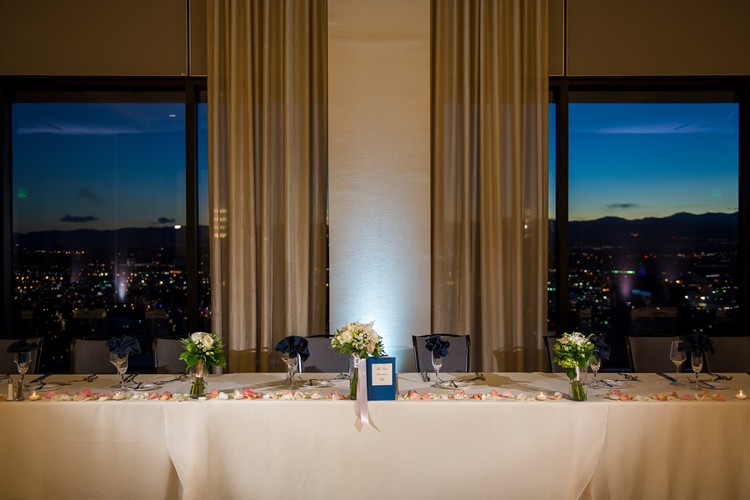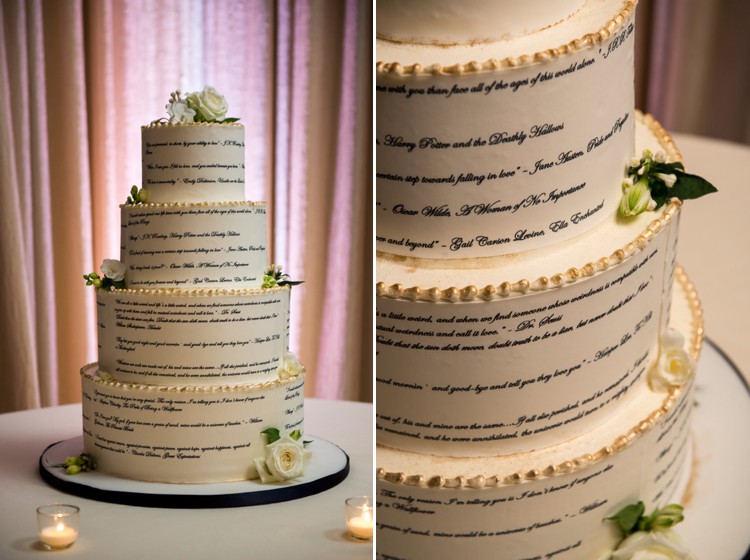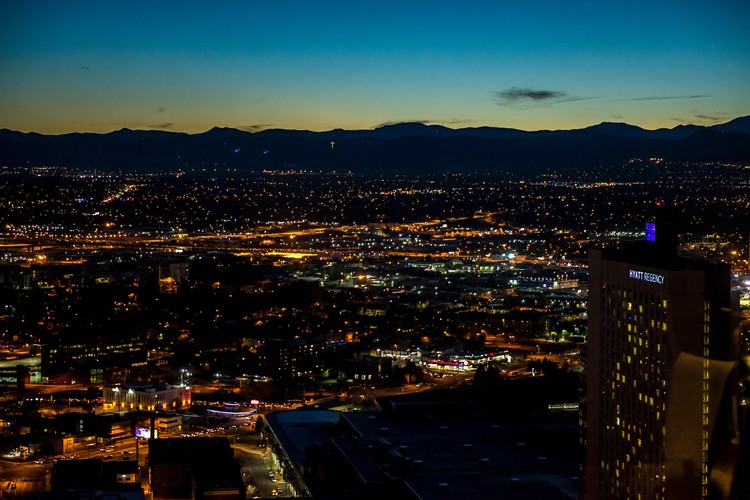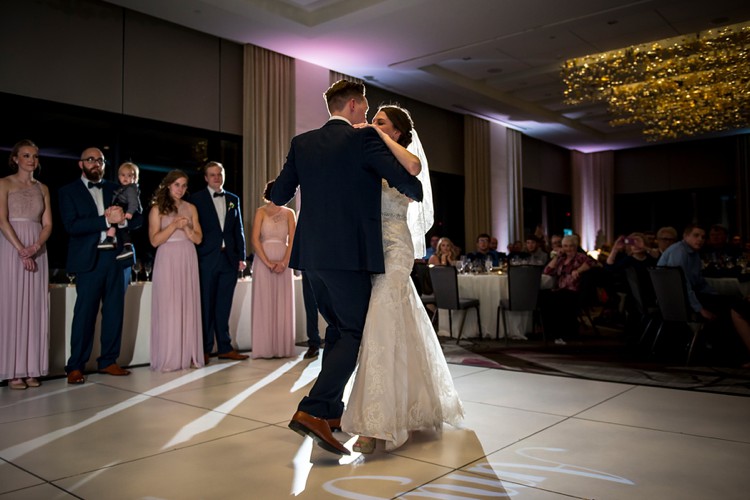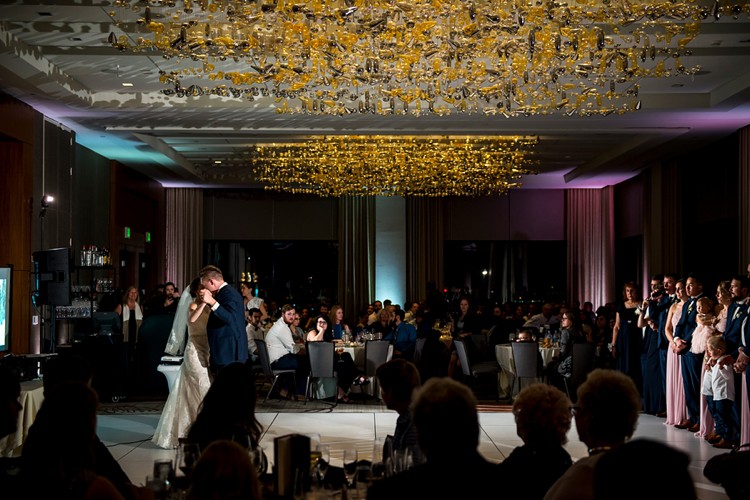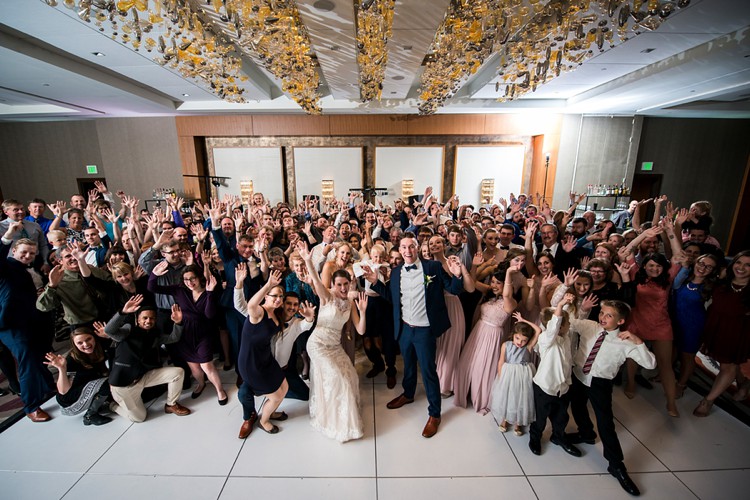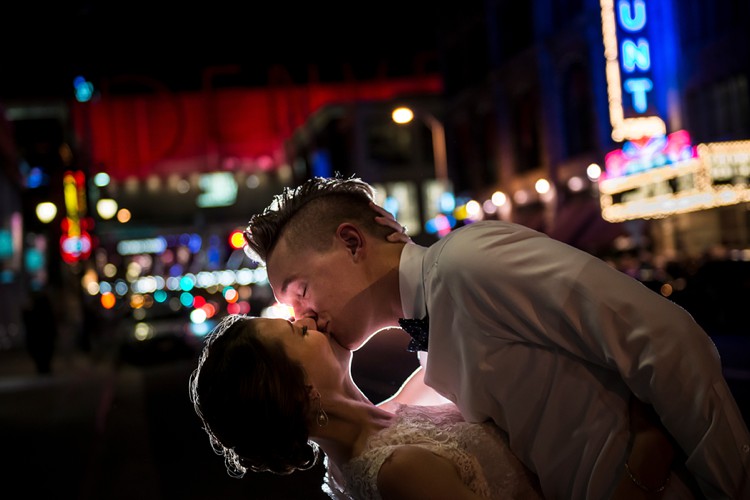 Photographer:
J. La Plante Photo
| Venue:
Grand Hyatt
| Dress Store: David's Bridal | DJ: DJ Connection | Floral Designer:
flower power washpark
| Dress Store:
Jacquelin Exclusive
| Favors and Gifts:
Juniper Books
| Tuxedo and Mens Attire:
Men's Warehouse