Q & A with the bride and groom, Marisa and Chris: Q: Tell us about your wedding! What was the inspiration behind your day? Did you have a specific theme, style or color palette? Did you incorporate any cultural or religious traditions in any part of your day?
A: We live in Los Angeles now, but I'm from Colorado, and a mountain girl at heart. Our theme was Rustic Elegance. We wanted to be surrounded by the mountains and be able to smell the pine trees, but we also wanted it to be classy and elegant. We went with a classic blush, cream and rose gold palette. The rose gold and blush against the rock and the natural elements at The Sanctuary were stunning and created the exact look we were going for.
Q: Let's talk wedding decor. How did you decorate your space for the ceremony and the reception? Was any part of the decor DIY?
A: We hired Newberry Brothers to set up the arch at the ceremony and the stunning hurricanes lining the aisle. The outdoor space is so beautiful, you don't really need much out there.We did the majority of the other decorations ourselves. I love taking on DIY projects, so for the duration of our engagement, I spend a lot of my time on designing the wedding and the decor. We chose and painted bottles for the centerpieces, along with the color flower that would go in each. We painted tiny pots and potted succulents for the escort cards. We added a glittery border to the invitations, escort cards and program which matched the bridesmaids' dresses. I spruced up invitations and escort cards printed at Minted. My mom designed the program and attached it with the same glitter background. Let Love Grow was a secondary theme for the wedding. We want our love to always be growing, so we incorporated it in many ways such as a tree planting ceremony and the succulent escort cards. We also had tiny love birds randomly throughout the reception space.
Q: What were the florals like in your wedding? Did you use flowers in any of your design elements like the bridal bouquets, centerpieces or ceremony backdrop? Did they play an important part in the overall style of your wedding?
A: We did all the flowers ourselves. While it was a little stressful, it made it that much more personal. I love roses, so we decided to stick with them throughout. We chose a light blush/coffee color rose called Quicksand, a creamy ivory called Vendala and a very light creamy blush garden rose called White O'Hara. The fragrance from this rose was incredible. We used flowers in our centerpieces, bouquets, in the ceremony backdrop and within other decor pieces such as bicycles. My mom created a "Let Love Grow" 3-D picture frame that we put on the escort card table and I thought it really tied everything together so well. That and the head table turned out to be my favorite part of the decor.
Q: Did you personalize the day in any way (food trucks, guest entertainment etc.)? What were some of your favorite parts of your wedding?
A: Let Love Grow was a secondary theme for the wedding. We want our love to always be growing, so we incorporated it in many ways throughout the wedding such as a tree planting ceremony within the ceremony and the succulent escort cards. We also had tiny love birds randomly throughout the reception space. Since blush was our main color, we opted for a rose champagne toast at dinner.
Q: Let's talk fashion. How did you choose your wedding day look? How did the groom? Describe both looks in detail.
A: I wanted a dress that was different and I loved the idea of having a light blush dress. I didn't think I would like the style of my dress (I thought I'd go with a mermaid style), but the moment I tried it on, I knew it was the perfect combination of classic yet unique.
Q: How did you meet? Tell us about the proposal.
A: We met on eHarmony. I was very against dating online for a long time and refused to do it. But we were both incredibly busy with our jobs and work in different fields, so we would have never met had it not been for signing up. Also, I was Chris's first online date!
Q: What was the most anticipated or special moment of your wedding day?
A: There were so many special moments throughout the day, but the most special moment of the day was spending a few moments together at sunset, overlooking the spectacular view and enjoying being husband and wife for the first time.
Q: Do you have any wedding planning or marriage advice that you'd like to share with other couples planning their day?
A: Get organized. Especially if you're planning the majority of the wedding yourselves. It doesn't cost a lot of money to get organized, but it pays off big time. Create a very detailed day-of schedule, stay on top of your guest list, finalize your seating chart and make escort cards. These things will make all the difference. You'll be less stressed on the day and your guests will have a better time at your wedding. Hire a day-of coordinator so you can pass all this along and just enjoy your big day.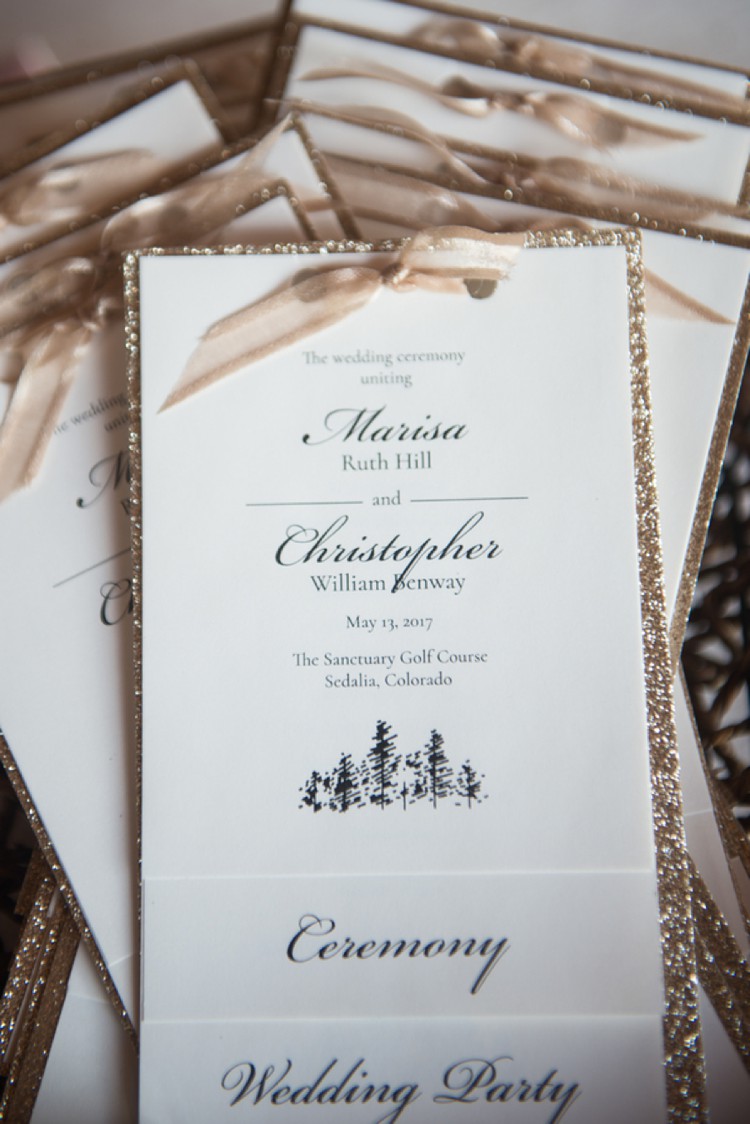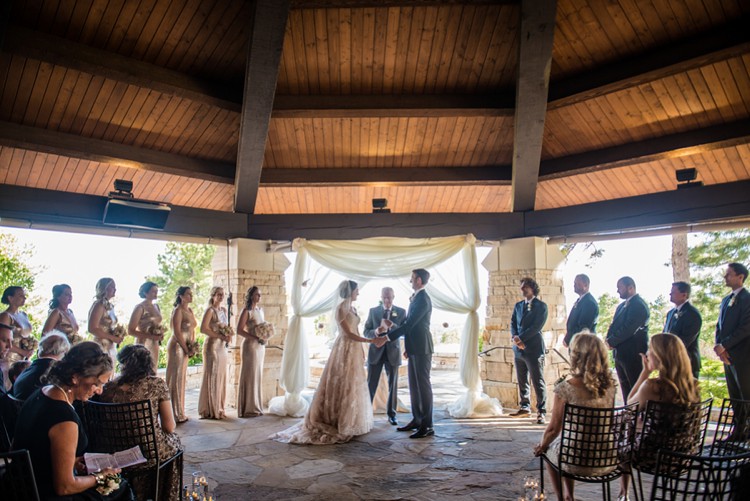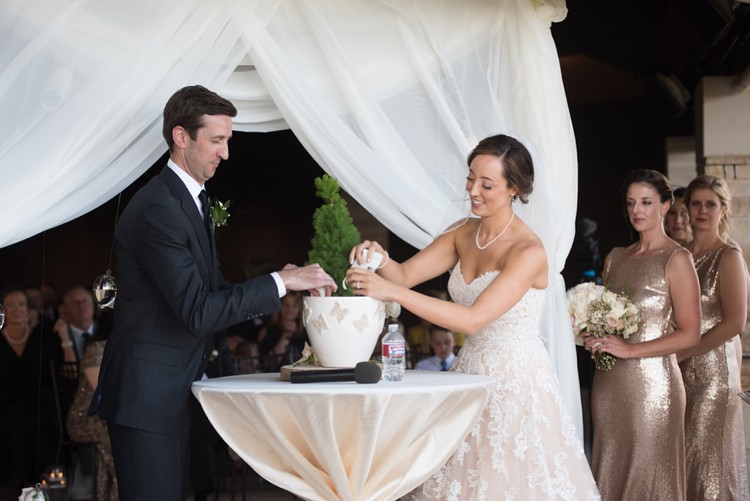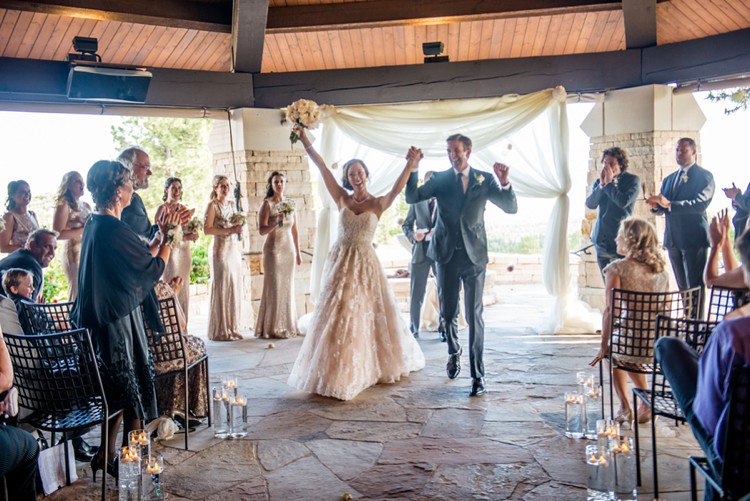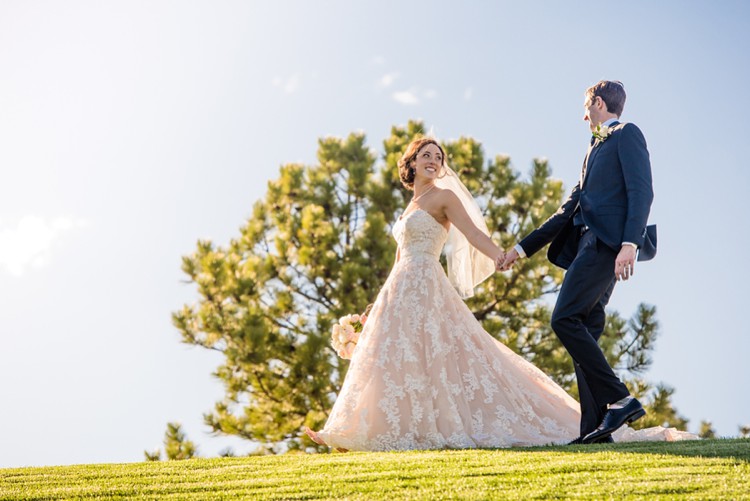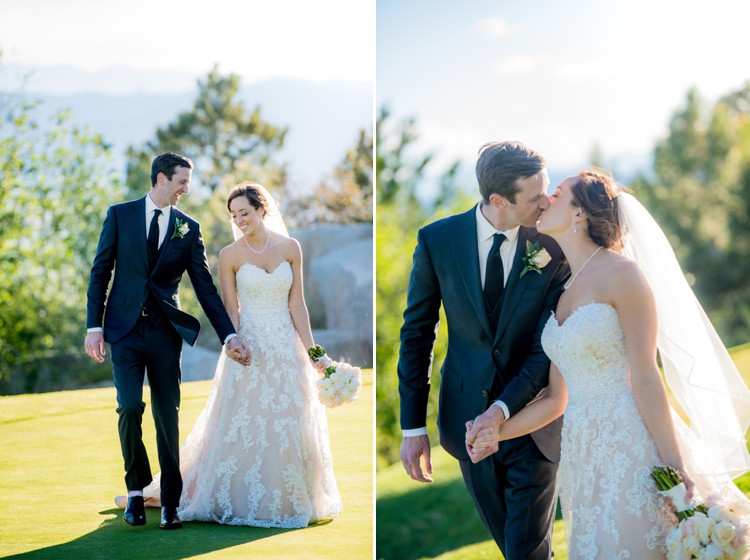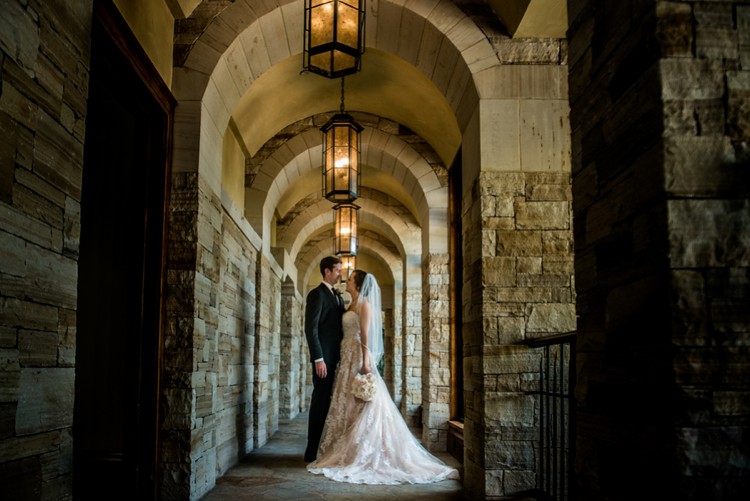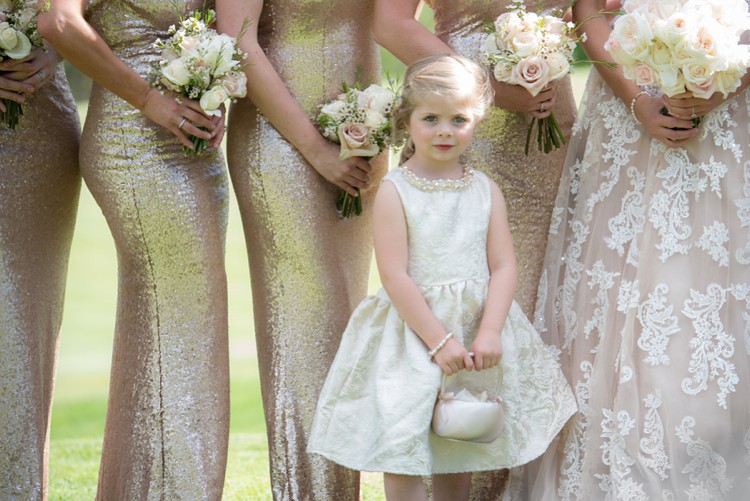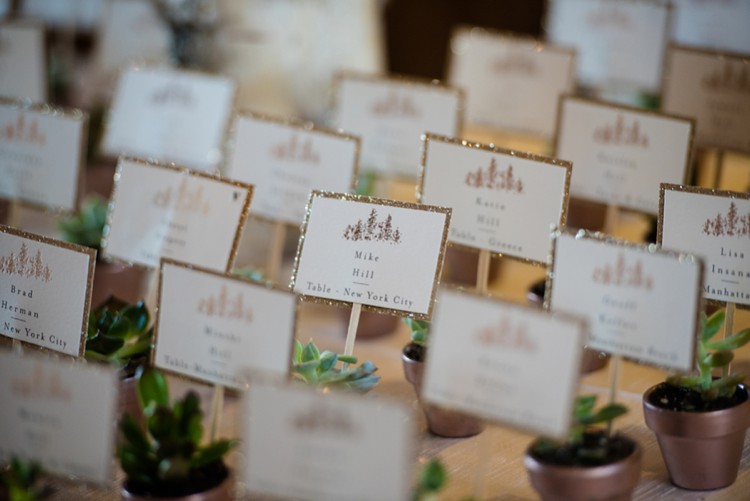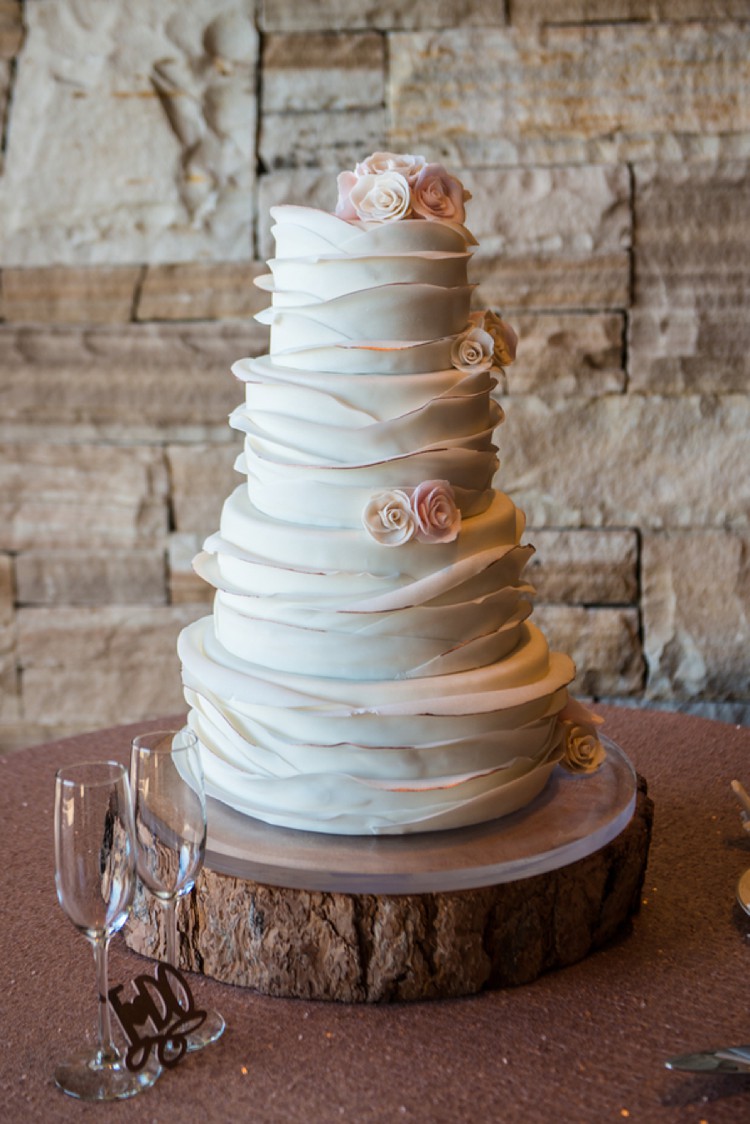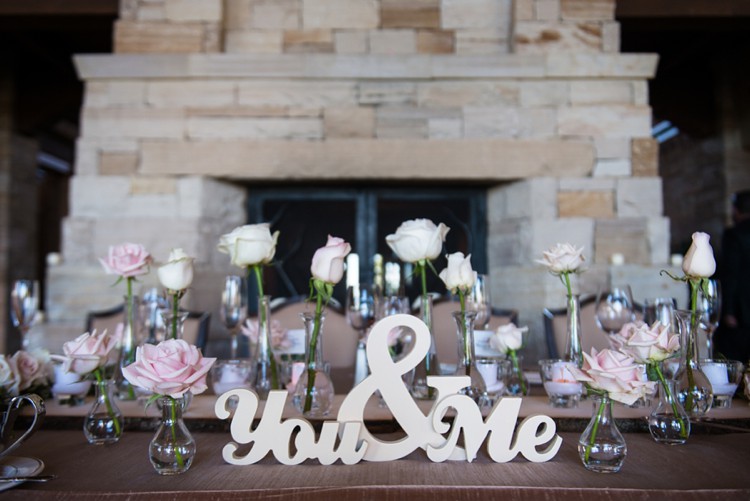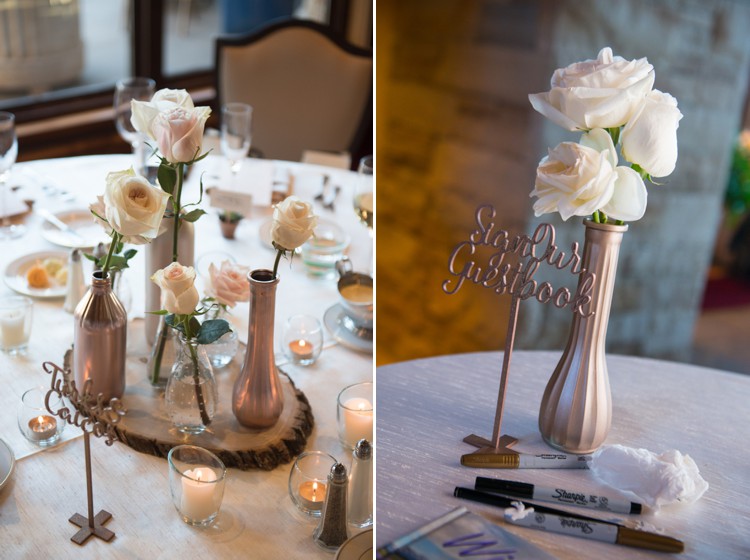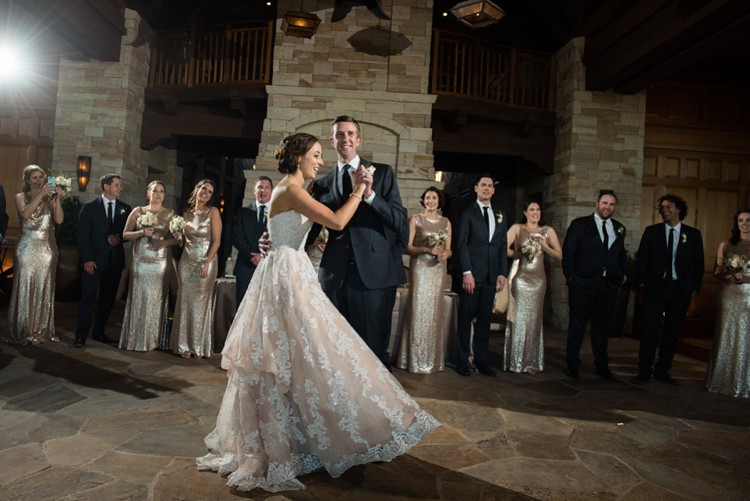 Photographer:
Trystan Photography
|Venue:
Sanctuary Golf Course
| Makeup Artist:
Alli B Artistry LLC
| Hair Stylist:
Brittani Estes Hair
| Cake Designer: Gateaux Bakery | Dress Store:
Luv Bridal
| Floral Designer:
Newberry Brothers, Inc
| Other:
Passion Growers
| Etsy Designer:
RisaRuth Designs
| Tuxedo and Mens Attire:
Suit Supply
| Tuxedo and Mens Attire: The Black Tux