Q & A with the bride, Hannah:
Q: Tell us about your wedding! What was the inspiration behind your day? Did you have a specific theme, style or color palette? Did you incorporate any cultural or religious traditions in any part of your day?
A: The wedding colors we chose for our wedding were blush pink, pastel peach and sea green. We got married in Colorado in the spring and Blake, my husband, is from Georgia, so we wanted the rustic elegance of the Rocky Mountains (green) combined with the elegant charm of the south (blush and peach colors with silver and rhinestone accents) as our theme. As Christians, it was very important to us to take communion during the ceremony to publicly testify that Jesus is the foundation of our lives and marriage.
Q: Let's talk wedding decor. How did you decorate your space for the ceremony and the reception? Was any part of the decor DIY?
A: We didn't do a lot of decorating for the ceremony. We got married outside at a beautiful ranch with hills, pine trees and the mountains as our backdrop, so we added an arch made of aspen trees (cut from my parents front yard and made by a dear friend of ours) with a garland draped along one side. Actually there was a small group of 5-6 deer that walked along the hills behind us during the ceremony which was cool for our guests who saw them!Dinner was held in the ranch house. There is a lot of natural light in the dining hall because of the large windows and glass doors that lead out onto the veranda. I lived in Australia for a few years, so we used eucalyptus (an Australian plant) and other types of greenery on all of the tables with three main centerpiece styles - three logs at various heights with candles (cut and assembled by my brother), silver vases with dried cotton stems and white hydrangeas, and wine bottles cut along the sides with succulents and pink flowers planted inside (the wine bottles were cut by friends of ours). The fireplace had large logs with candles inside vases of various heights and a garland hanging off the sides. Dancing was held in the barn. We mostly had sea green candle holders with tealight candles in the barn.
Q: What were the florals like in your wedding? Did you use flowers in any of your design elements like the bridal bouquets, centerpieces or ceremony backdrop? Did they play an important part in the overall style of your wedding?
A: The overall style we were incorporating into the wedding was a combination of two lives - one from Colorado and the other from Georgia. We wanted to have a very simple wedding with small sparkly accents. I love peonies and succulents. Therefore, the main components of the bouquets were pink and white peonies with succulents of various shapes and sizes; we also included pink roses, dianthus flowers and a generous amount of greenery. A family tradition on my mom's side is for the bride to have white stephanotis flowers in her bouquet, so I had them in mine too. When my mom got married, she had ivy in her bouquet; so for my wedding, the mothers/grandmothers had ivy in their corsages. We also included dried cotton stems in the boutonnieres that my mother-in-law sent us from Georgia.
Q: Did you personalize the day in any way (food trucks, guest entertainment etc.)? What were some of your favorite parts of your wedding?
A: Blake had just graduated from the Air Force Academy a few days before we got married, so we incorporated a military tradition into our ceremony. His Air Force friends made an arch for the Blake and I to walk through after the ceremony. But as we approached each pair of officers, they lowered their sabers to prevent us from passing until we kissed and then they would let us through. This happened with each pair until the end when Blake had to dip me in order for them to let us pass by. When we finally got through the whole arch, one of his friends used his saber to smack me on the butt and said, "Welcome to the Air Force Mrs. Shiver!" That was a fun way to end the ceremony and our guests thought it was pretty cool to see Blake and his friends in uniform. I loved the entire day! The speeches from the best man, matron of honor and my dad were really fun; dancing and celebrating with our closest friends and family members; all the Air Force guys singing "You've Lost That Loving Feeling" to me during the reception... There were so many parts of that day that were so wonderful; it's hard to choose just a few.
Q: Let's talk fashion. How did you choose your wedding day look? How did the groom? Describe both looks in detail.
A: Being from Colorado, I wanted minimal decorations because it's so beautiful along the Front Range that there's no need to decorate for an outdoor wedding. Most of our guests were travelling from out of town, so I wanted them to get the entire ambiance of the Rocky Mountains. We had logs sawed into candle holders on the tables and throughout the dining hall; the wedding venue was Flying Horse Ranch with beautiful rolling hills, pine trees and fields surrounding the house and barn. At the same time, I didn't want to leave out my husband's roots either. So we brought in pastel colors (peach and blush) with silver vases and cotton into the overall design. We also included rhinestones into our look. My two bridesmaids had simple dresses with a high neckline that came just above the knee. Necklaces weren't really an option due to the high neckline, so all of the girls (the mothers, bridesmaids and I) wore rhinestone bracelets and silver shoes to dress up the overall look. I also had a rhinestone headband in my hair. My husband loves braids, so my bridesmaids, flower girls and I all had braids incorporated into our hair design too. We wanted a soft look with peach bridesmaids dresses, blush flower girl dresses (all made of chiffon) and the groomsmen and ring bearer wore gray.
Q: How did you meet? Tell us about the proposal.
A: I met Blake when he came to the Air Force Academy. I worked at the hotel he stayed at the night before basic training started. The policy of the hotel was for the front desk employees to call each room within 15 minutes of a guest checking in to make sure they were satisfied with their room. To this day he still claims I was flirting with him when I called. When I saw him in the lobby later on, I asked what his plans for the rest of the day were - just like I did with the other guests of the hotel. He didn't have plans and took me off guard by asking what my plans were and then inviting me to dinner. I wasn't quite sure how to say 'no,' since I had already told him I didn't have plans, so I met him for dinner and we walked around Garden of the Gods park after. Once basic training was over, we started dating. For our engagement, Blake recreated the night that we met by taking me to dinner at the same restaurant and requesting the same table we had sat at three years earlier and then taking me to Garden of the Gods to walk around. I had no idea that he would propose that night! He said, "Since we left the car, we have taken 1,047 steps. The last time we were here was exactly 1,047 days ago when we had our first date. [Gets down on one knee] I will not take another step, or spend another day without you doing it with me. So Hannah, will you marry me?" I burst into tears and said, "Are you serious?!" about 20 times before saying 'yes.' ;)
Q: What was the most anticipated or special moment of your wedding day?
A: We didn't have a first look before we got married. So I was really excited to see Blake as I walked down the aisle. He cried as I walked down with my dad (though he would tell you he got dust in his eye). He doesn't cry much, so it was really a special moment for us. It made a few of our guests tear up watching. I was just so happy knowing that this is the person I want to be with forever! The processional song we chose is "I Choose You" by Sarah Bareilles. We chose that song because there are other people that we could have chosen to marry, but we chose one another. As I walked down that aisle, I was not only saying "I choose you" to Blake, but I was telling him that I am not choosing anyone else. It was a kind of sacred moment.
Q: Do you have any wedding planning or marriage advice that you'd like to share with other couples planning their day?
A: It's easy to get swept up in the wedding planning mania. It's a lot of fun! And for many people - myself included, it is a day that we dream about for years. But the whole reason for the day is to marry your best friend; that should remain the focus. Nothing else matters. There were plenty of things that didn't go according to my plan, but at the end of the day our goal was accomplished and I became a Mrs.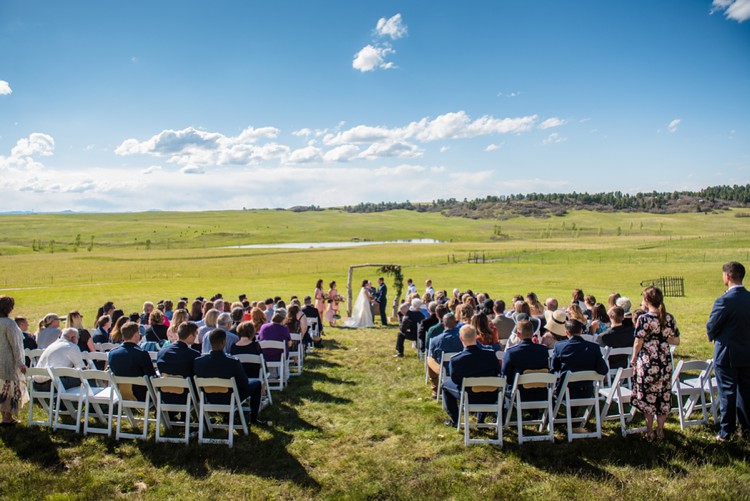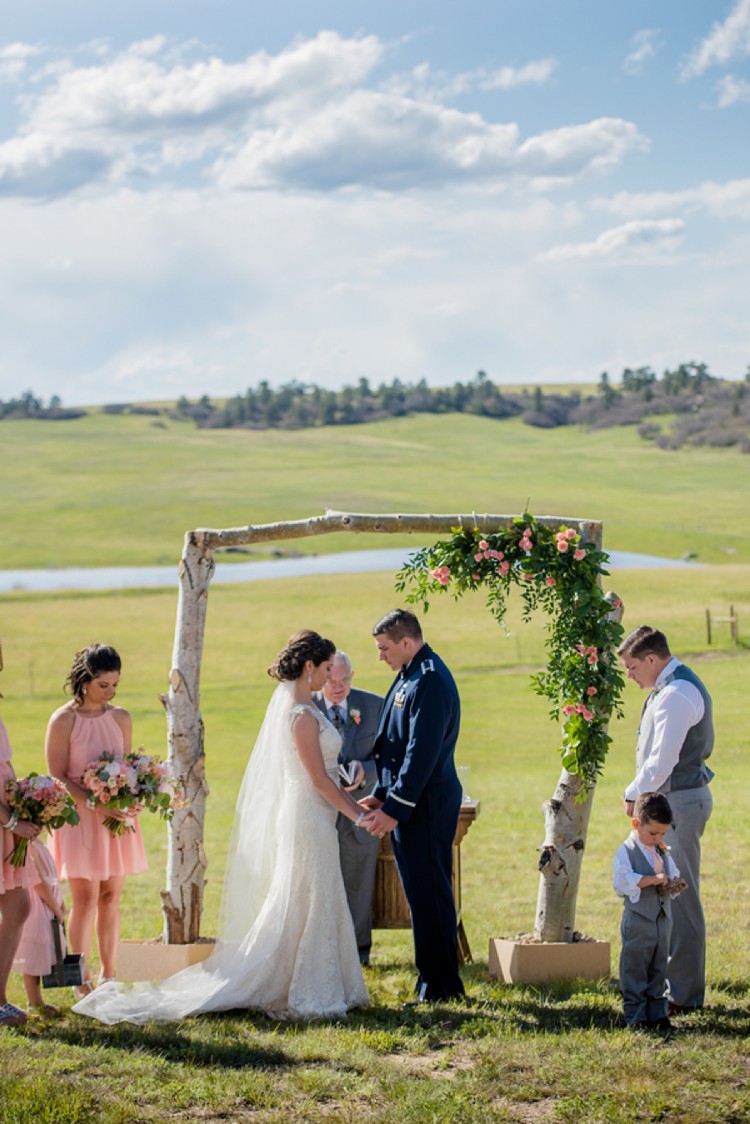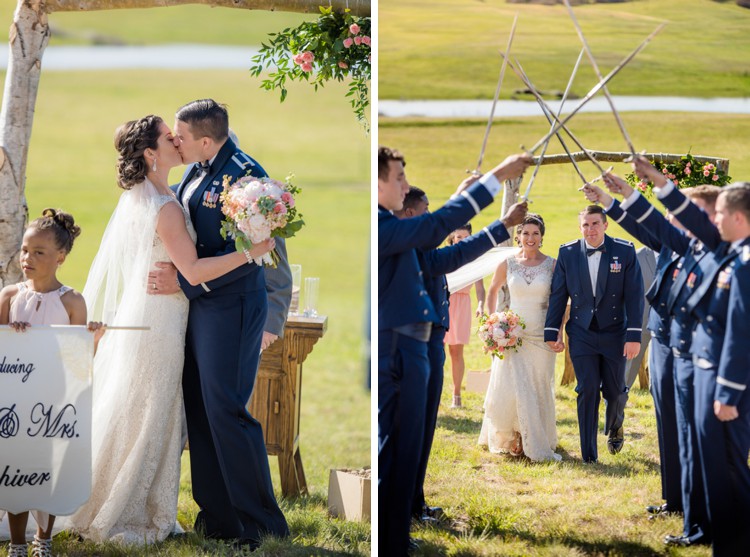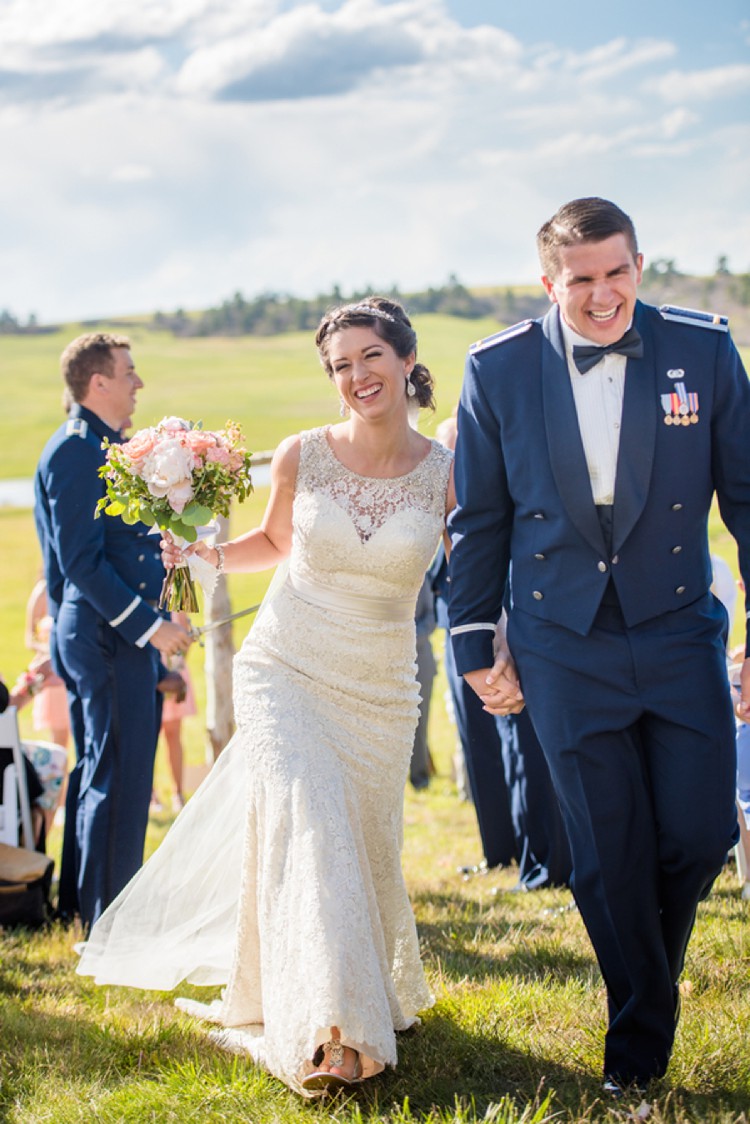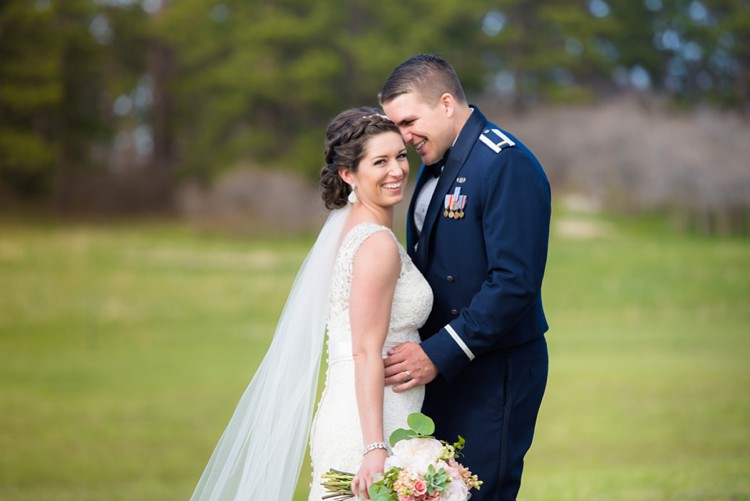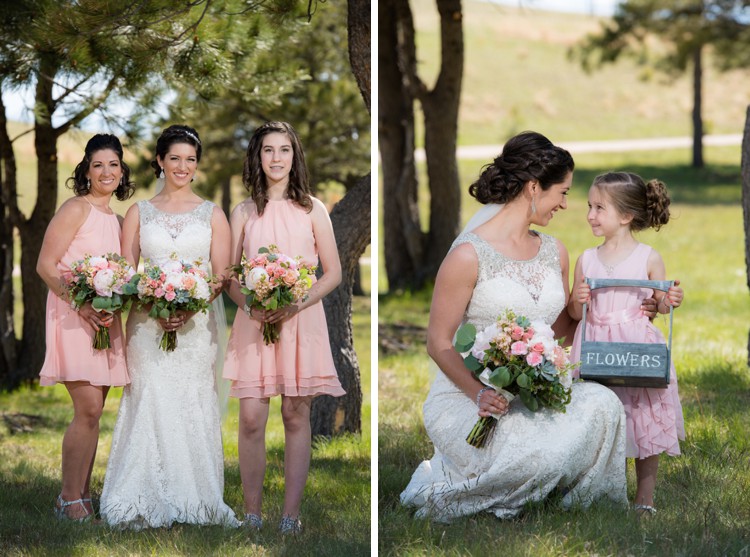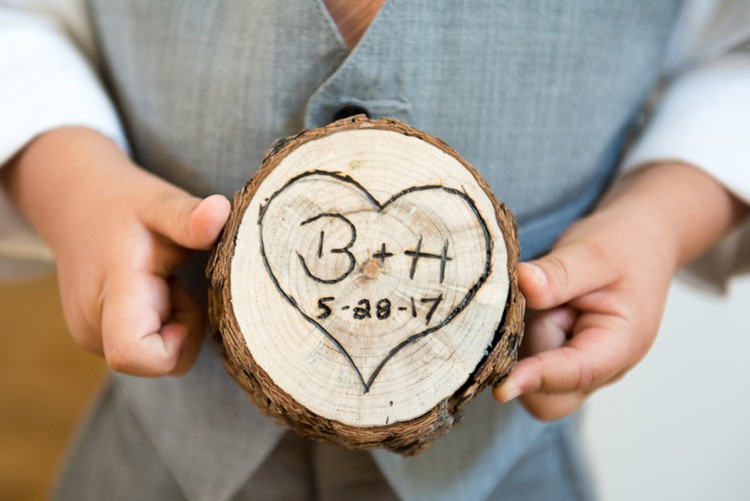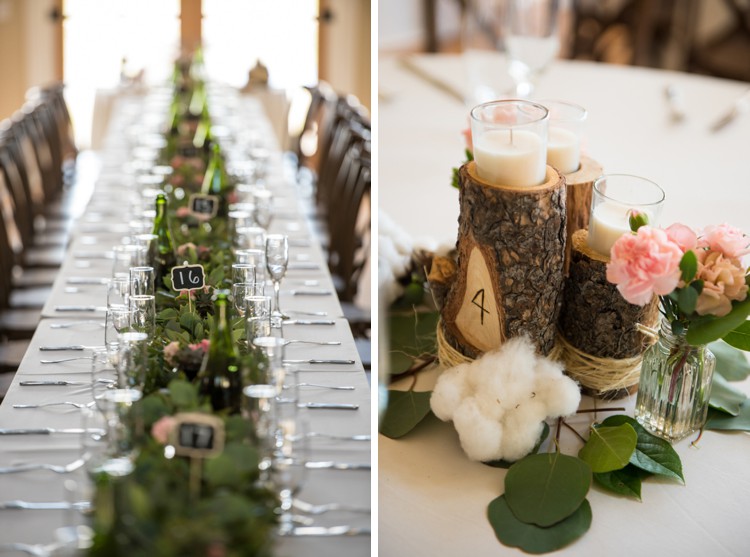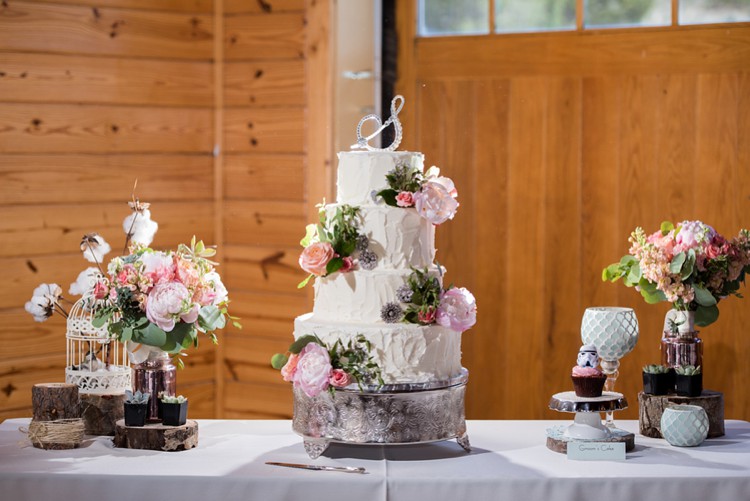 Photographer:
Trystan Photography
|Venue:
Flying Horse Ranch
| Floral Designer:
Ambiance Florals
| Caterer:
The Food Designers