Nesting is one the best benefits of pregnancy. Good thing..... because there is A LOT to get organized. The nursery is the biggest project (and most fun) to prepare for your little one's arrival. Whether you are keeping the sex of the baby a surprise or not, you can design a stylish and functional nursery. Need ideas on the design? Browse through our gallery of
real Colorado Nurseries and tips
featured on COUTUREcolorado. Here is my list of 15 Nursery Essentials to get you started.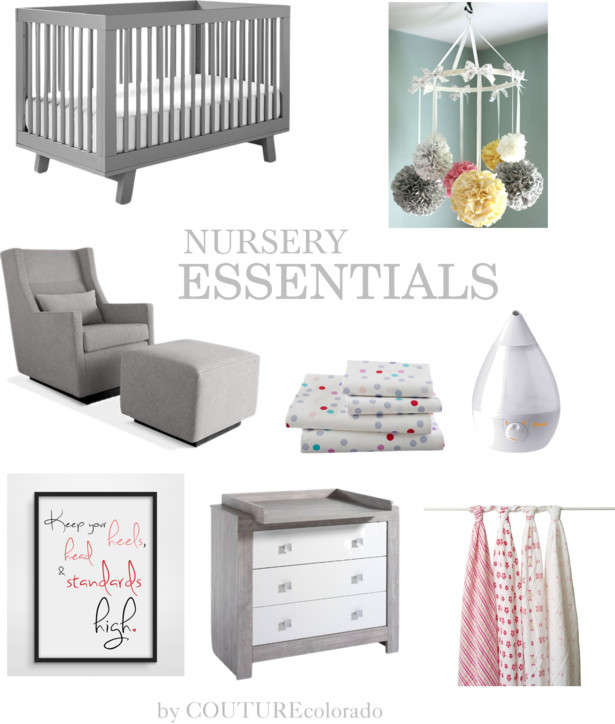 1. CRIB:
The crib really sets the mood for your nursery. Now in days, you have a ton of options to fit with your design aesthetic. Pictured above is a mid-century modern crib. It is simple, stylish and sophisticated. And don't forget functional......it easily converts into a toddler bed.
2. CHANGING TABLE:
Storage is key. And don't think you are limited to the "changing tables" sold in the baby department. Use a dresser. Then you have good storage and you can still use it after the diaper stage is done. Trying to save money? Find a dresser at a garage sale or craig's list and up-cyle it by sanding and painting it to your desired color.
3. ROCKING CHAIR, GLIDER, OR COUCH:
Pictured above is The Sparrow Glider and Ottoman by
Gus* Design Group Inc.
. This is a great way to add style with color and pattern. Or try mismatching the ottoman for extra flair. A glider is on ALL of the nursery essentials lists I found online while doing my own research. So, of course, I listened and bought a fabulous comfy glider with a ottoman to match. BUT having twins wasn't really conducive to having a glider. A couch was a much better fit. I had the glider in the nursery for about two days after rearranging and making a small couch fit. Both my husband and I conduct bedtime together and a couch makes it so that we can comfortably sit together, read books and feed them a bottles. I soon loved the idea of having a small couch for twins or singletons due to the fact that Mom and Dad can both do bedtime together.
4. DIAPER PAIL:
Whether you doing cloth or disposable diapers, you need bin to dispose and keep the odors under control. I use eco-friendly disposable diapers by
Honest
(LOVE THEM!) so I chose The Diaper Genie Elite. There is also a Diaper Genie Essentials which I did NOT like. The difference is the size but also the Elite comes with a foot pedal for easy, hands-free diaper disposal. Definitely worth the few extra bucks for the Elite.
5. SOUND MACHINE:
Despite the recent studies that have said sound machines are bad for babies, I am still "pro" sound machine.
On CBS, the studies recommend
putting the sound machine on low, placing it across the room and having it on a timer. Basically, do NOT put it on full blast in their crib. (Duh!) The idea behind white noise is that it drowns out the sudden sounds (doorbell, dog barking) making it easier for babies to fall and STAY asleep. One small
trial
found that more than three-quarters of newborns fell asleep within five minutes when they had white noise, compared with only a quarter of newborns who tried to fall asleep without it.
6. HUMIDIFIER:
We live in the dry climate of Colorado and the babes definitely need it the extra moisture.
7. MONITOR:
There are many options for monitors from simple audio ones to video and to even wifi. I choose a video monitor. Other parents I have talked to said they got a video monitor and thought it was a waste. In my case with twins, it is really nice know if both of them are awake or just one.
8. LIGHT SWITCH DIMMER:
Yes, you will have many nights heading into the baby's room to feed and you don't want to startle them with bright lights. I would recommend installing a dimmer on your light switch. It is also nice to have dimmed lighting during your bedtime and nap routine. If you can't put a dimmer then get a night light.
9. BEDDING:
I would recommend 3 -4 sets of sheets. Here is another great place to add in pattern or color. The American Academy of Pediatrics (AAP) recommends to keep soft objects or loose bedding out of the crib. This includes pillows, blankets, and bumper pads. So all you need are a few cute sets of fitted sheets for your bedding.
10. SWADDLE BLANKETS:
Invest in swaddle blankets but not too many at first. You will not know which type you or your baby will like. My friends LOVE the
Aden + Anais
blankets. Yes, they are awesomely soft but for me I never got the hang of swaddling the girls in them. In the beginning, I used the
Summer Infant Swaddles
because they were so small (premies) and then transitioned into the
Miracle Blankets
. New parents often learn how to swaddle their infant from the nurses in the hospital. A blanket wrapped snuggly around your baby's body can resemble the mother's womb and help soothe your newborn baby. The American Academy of Pediatrics (AAP) says that when done correctly, swaddling can be an effective technique to help calm infants and promote sleep.
11: BLACK-OUT CURTAINS/BLINDS:
For nap time and early bedtimes, invest in good black-out curtains or blinds. This will create a consistently in the lighting and the baby will (hopefully!) go to sleep faster and longer without the sunrise waking them up.
12. BOOK SHELF:
Every baby needs an assortment of books. So plan for a book shelf for storage.
13. CLOTHES HAMPER:
This is the one thing we did not think about before our girls came home. Get a clothes hamper and place it next to the diaper changing station for easy access.
14. MOBILE:
Here is another opportunity to add to your decor. Whether it is DIY or store bought, go crazy cute with this option. FYI, I didn't use a mobile but I did install a whimsical hanging light in the center of the room and the girls love it.
15: INSPIRING ARTWORK:
Inspire your little one with artwork. Adding in fun quotes (like pictured below) is an easy and inexpensive way to add personality into your room. Pictured above:
Serena & Lily Hudson Crib – Grey
/
Tulip Festival Sheet Set
/
Aden + Anais Swaddling Blanket 4 Pack Princess Posie
/
Sparrow furniture
/
Wall Decor Poster, Inspirational Quote, Gift for Girls, Bedroom Wall...
/
Schardt Changing Table Nordic Driftwood (Grey)
/
Nursery Mobile
/
Crane Humidifier